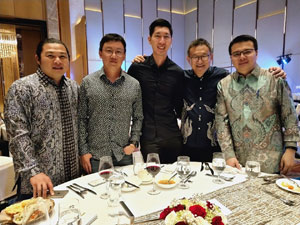 The pouring rain and road congestions failed to deter the old boys in Jakarta from showing up at the annual ACS Founder's Day Dinner Jakarta. The tired faces instantly transformed into smiles and excitement as the old boys and girls met their batch mates and friends in the West Java Ballroom, in the Westin Hotel. The dinner, in its 7th year, has been a platform where the old boys and girls who are based in Indonesia gather annually to celebrate the founding of the school as well as rekindle friendships and make new connections.
This year, we welcomed again Mr. and Mrs. Campbell as well as several other familiar faces. We were also very encouraged to see an increased number of newcomers, especially the younger ones. We even had a table of our own ACS Jakarta alumni! When this committee was first formed, we had a mission to be the bridge that reconnects ties between the alumni who are based in Indonesia. Clearly the event has gained traction, and more old boys and girls are joining in.
If any of you who are reading this are based in Indonesia, please do come next year and be part of this special occasion!
Mr Nurvianto Bayusuputra