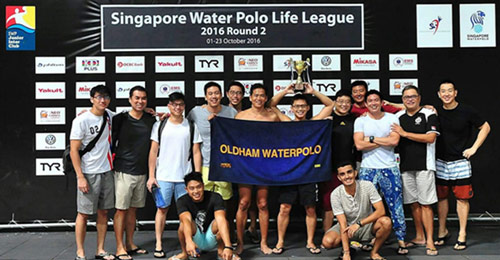 Oldham Waterpolo has had a relatively busy and successful 2016. For training and sharing our playing knowledge, we currently utilise 2 avenues to keep ourselves somewhat game ready and to maintain a reasonable level of fitness but more importantly, our objective is to offer our wealth of playing experience to younger players still active competitively in the sport from primary to tertiary levels.
Every Saturday morning, we engage fully in the training with the ACS Barker Waterpolo B & C div boys, supplementing the existing training programme. We hope by doing so, we can continue to inspire the boys and pass down the tips and our years of experience playing the game. The playing level here is not as competitive for us but the sense of achievement watching the young boys eager to learn from us is very satisfying.
Every Monday & Wednesday evenings at NIE Evans Road Sports Complex, we train with the NUS Men's water polo team where we enjoy a high level of competitiveness more akin to our playing level and where we can really push ourselves harder. The NUS team is very appreciative of our presence as we invariably keep them on their toes as they train for their matches.
Oldham Waterpolo has been participating in the Singapore Water Polo Life League organised by the SSA since 2014 and this year was no different whereby we participated in both Round 1 in April-May and recently in Round 2 in October.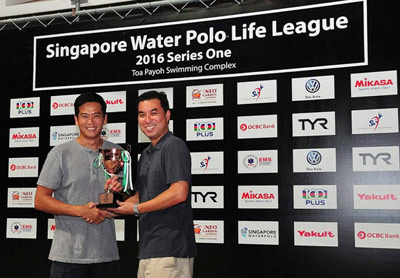 We fought as hard as last year when we won Golds in both rounds but this time it was not to be as we settled for Bronzes in both rounds. Nonetheless, the results were commendable taking into account the dramatic increase in playing skill levels and conditioning of the competition with our generally much more senior playing ages.
In addition there was a separate one-off Singapore Water Polo Premier League organised by the SSA in February – March which involved the current national team players split into 2 teams mixed with other players, some of which were our very own Oldham players, the Under 23 national hopefuls and Waterpolo players from other clubs. The level of competition was undoubtedly high and demanding but this experience gave the participating Oldham players a rare and invaluable chance to bring their rusty skill levels up to speed.
Water Polo Chapter Head: Leonard Yeo (lenyeo1111@gmail.com)