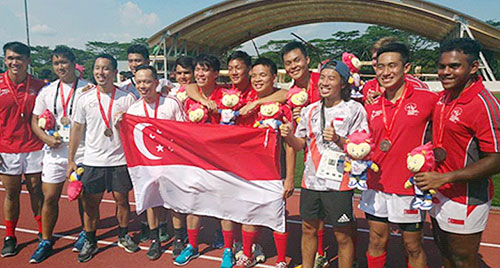 The Early Beginnings
Although Oldham Club was officially formed less than six years ago, its existence actually dates back more than 30 years ago when a group of Old Boys got together informally to continue playing rugby together for leisure and for fellowship.
In 2000, for the love of the game and the alma mater, this group of Old Boys volunteered to train and maintain a constant stream of 'homegrown' rugby players from the Primary school level to feed into the Secondary schools. In addition to rugby training, the volunteers also conducted annual camps for kids and intensive tuition for boys who need to catch up with their schoolwork. Thanks to their unflagging efforts, ACS is today the dominant force in Singapore schools rugby, constantly bagging top honours and Grand Slams year after year.
Many players have gone on to play for the National team and various leading rugby clubs in the Singapore Rugby League after leaving ACS. And as interest grew, the core group of Old Boy volunteers eventually evolved into ACS Old Boys Rugby (ACSOBR) under the aegis of ACS OBA.
Playing under the Oldham Club name, ACSOBR made its debut in the 2009 Singapore Rugby Conference League and ended its first season creditably as runner-up. Since then, Oldham Club has branched out to six other sports – Badminton, Basketball, Hockey, Squash, Tennis and Waterpolo.
A Club with a Heart
Oldham Club goes beyond just providing a channel for members to pursue their sporting passions after leaving school. Its primary objective is to engage, minister and to act as mentor to the young and/or less privileged members of our community through sports, social activities and community work.
According to Mr Low Yang Tong, Head of Oldham Club, "We are actively involved in counselling and sharing with young members to foster goodwill, understanding and respect amongst members of the community. Ultimately, our aim is to give back to the community and our beloved alma mater which has given and groomed us to be what we are."
Adding on, Mr Cheo Chai Hong (former ACS OBA President and one of the pioneer driving forces of Oldham Club) said, "Oldham Club is open to anyone who share our same vision, values and passion for the love of sports and the community at large. As such, we decided to identify ourselves as 'Oldham' (which is school neutral) instead of ACSOBR, to reach out and share with others not from our schools the values and benefits of the ACS culture and brand of education that shaped our lives".
2016 has been an eventful year for the fledgling Oldham Club
Below is a summary of activities for the seven chapters. More chapters like Netball, Table Tennis, Volleyball and even Choir may be introduced soon. Meanwhile, if you are interested in joining in the camaraderie and in the spirit of Oldham and of course ACS, please contact the respective Chapter Head listed in the reports below.