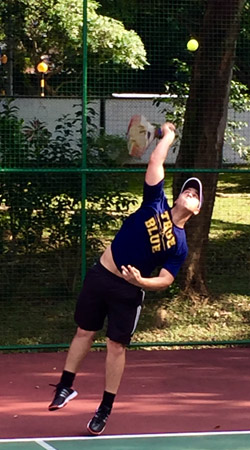 2016 has been a great year for Oldham Tennis – both on and off the courts.
The year began with the annual "Past versus Present" games which is one of the most important events on the Oldham Tennis calendar as it is a primary event that is used to increase awareness and membership. This year's friendly competition was won by the "Past", who took home the coveted "Past versus Present" Challenge Shield for the 3rd consecutive year.
Aside from the friendly "on court" action, current members of Oldham Tennis have the opportunity to mingle and interact with the new batch of tennis players from the various ACS institutions every year. Oldham Tennis waives the annual membership fee for students who are still in school, in a bid to encourage as many of them to sign up as possible.
The first social event of the year was the annual Oldham Tennis Chapter Thanksgiving Dinner, held immediately after the conclusion of the "A" Division National Schools Tennis Championships. Organised by the management committee of Oldham Tennis, the event is held each year to celebrate the end of the competition season, and all the tennis players from various ACS institutions are invited for an evening of thanksgiving and fellowship.
On the competitive scene, Oldham Tennis competed in the "STA Inter-Club Singles League" for the first time in March, making it to the semi finals in our maiden attempt.
At the annual "STA Inter-Club Doubles Knockout Championships", Oldham Tennis sent in teams to compete in both the "B" and "C" grade competitions. The "C" grade team reached the semi-finals, where they lost to the eventual champions, "The Weekend Warriors", while the "B" grade team went a step further to reach the finals, emerging as the runners-up after losing to Keppel Club.
At the annual "STA Inter-Club Doubles League Championships", Oldham Tennis once again sent in teams to compete in both the "B" and "C" grade competitions. Although both teams failed to qualify for the semi-finals after completing the roundrobin league matches, the competition season for 2016 came to a close with both teams gaining valuable match experience from the wins and losses during the competition. Through all the matches, our players represented with great verve and style, pulling off some dramatic and exciting come back wins in the process. While we have not reached the top of the hill yet, Oldham Tennis has certainly made itself known on the circuit as a team to be reckoned with and we look forward to even greater things in the years to come.
Tennis Chapter Head: Paul Lee (oldhamtennis@gmail.com)