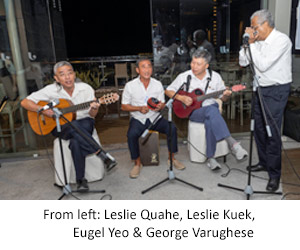 Our First Reconvening 55 years after we first met in Primary One ACJS at Barker Road in 1964 took place on the Ides of March 2019, and as if to make up for lost time, we gathered again, this time at Hotel Jen Puteri Harbour, Johor on November 24, 2019.
We had planned this Second Reconvening even before our First because we had wanted to give maximum notice for our "Far Away Guys" – classmates who have since lived and settled abroad – to plan their calendars to allow them to come back from distant shores to join us. And so, on that glorious Sunday evening in November 2019, 70 of us gathered once again to stand together for warm fellowship and the cause of ACS Forever …
Much planning, recceing and location-selection had gone into this event, not to mention bargaining for the optimal deal. We kept the cost to S$64 per person, and that included not just the dinner with a lamb roast added to the seafood barbeque and Asian fare, but also return transportation in several MPVs for those who did not want to drive and did not want to stay overnight at the hotel.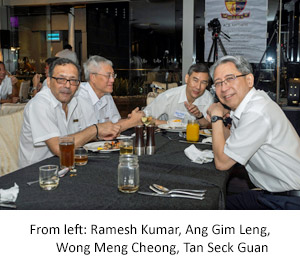 In truth, because of the donation of a few generous individuals amongst us, we did end up with a surplus of $1,261 when the final accounting was done by our Honorary Treasurer Mahmood Jumabhoy. After we closed our books, we made a gift of this entire sum to our ACS Teachers' Fund to support retired teachers.
Registration was to begin at 6 pm but many of us came early, some from lunchtime to not test Causeway traffic.
The evening began with our inimitable Rev Leslie Quahe saying Grace, in a manner we knew would gracefully resonate with Jew and Gentile and ACSians of all persuasions alike. Leslie spoke of how the ocarina, a musical instrument he held in his hand, was made, making the analogy that we are also instruments of our creator, and thanked his classmates for being the notes in the melody of his life.
He then played a lilting, tender rendering of This is my Father's World on his ocarina, blessing our evening and giving thanks for each other's good company.
Master of Ceremonies Raymond Gwee called everyone to order and the de rigueur singing of the ACS Anthem was accompanied by a fine band of brother musicians made up of Leslie Quahe and Eugel Yeo on guitars, Leslie Kuek percussion, George Varughese harmonica, and Paul Supramaniam accordion. Vocals were heartily produced by all present.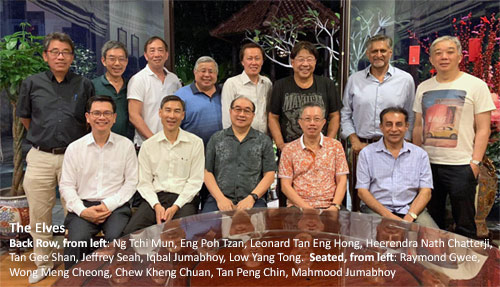 "Chief Bangla" Wong Meng Cheong then welcomed each of our Far Away Guys who made the trip from far and near – eleven classmates who came from the U.S. (Rex Yung; Daniel Tan), Canada (Kevin Boon), the UK (Peter Cheang Kok Seng), India (Thomas Kuruvilla; George Varughese), Thailand (Bemas Gerald Chan; Leslie Quahe), Australia (Suresh Thomas Joseph), and Malaysia (Mok Chee Paan, Rajendra Krishnan).
In turn, we presented our Chief Bangla with a Certificate of Appreciation to "acknowledge (his) initiative, leadership, and herding ability" in reconnecting the four Primary One classes The combined ACJS cohort of the Primary One class of 1964 with some buddies from ACPS of 1964 at ACJS at Barker Road. The certificate was executed under the hand of the organising committee aka "The Elves" – Heeren Chatterji, Chew Kheng Chuan, Eng Poh Tzan, Raymond Gwee, Iqbal Jumabhoy, Mahmood Jumabhoy, Low Yang Tong, Ng Tchi Mun, Jeffrey Seah, Leonard Tan Eng Hong, Tan Gee Shan, and Tan Peng Chin.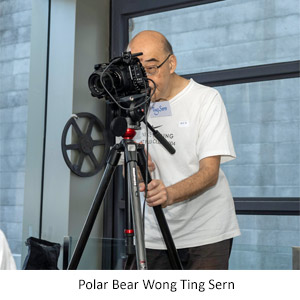 One highlight of the evening was recognising Mountaineer and IT Expert Wong Ting Sern aka Polar Bear's contribution as our stand-in class photographer for the event, and Leslie Quahe's memorable tale of his profound friendship with Ting Sern in Afternoon School in Secondary Four. Ting Sern's persistent tutorship was critical to Leslie getting a place in Pre-University at ACS while Ting Sern himself did not make it, and for 45 years they lost contact with each other until our first Reconvening on March 15, 2019 in Singapore.
Yet another highlight that moved many of his classmates was Bemas (Gerald) Chan's personal sharing and performance in dance, and the trials and tribulations he faced growing up with an LGBTQ orientation.
It goes without saying that in the time between our programme highlights, there was time for all of us to fraternise with old kakis, reconnect with long-lost-but-not-forgotten friends, break bread and sup together, and gather for the obligatory group pictures in various configurations.
We held our event in 2019. At this writing in 2020, the world is in the throes of the Covid-19 pandemic and has changed unimaginably. It would not have been possible to have met in Johor with Malaysia's Movement Control Order and Singapore's Circuit Breaker enforcing social distancing, with borders closed and much of the world in lockdown. But this too shall pass, and we look forward to the day we will reconvene again - we who remain friends from our special world of ACJS Primary One 1964.
Chew Kheng Chua
Jeffrey Seah