A Celebration of Wonderful Friendships – 50 years on
The ultraglam upscale übershiok Clifford Pier of today looks nothing like the sturdy, serviceable but unexciting transit point that had first gone into service in mid-1933. But it was the very same place where Rhordon Wikkramatileke and his family had been deposited by bumboat back in 1955 when they arrived from Ceylon by ship to settle in Singapore. The Clifford Pier is now part of the Fullerton Bay Hotel and the grimy workaday waterfront of the old Collyer Quay is now a swish dining and entertainment sprawl collectively called the Fullerton Heritage.
And this was where he found himself again on August 24, 2019, when he arrived ready to play the guitar to accompany the ACS Glee Club at a class reunion. Like many of the ACS Class of 1967/1969, Rhordon had moved overseas but the call to come home and party is hard to resist when you know the food is going to be good and you have friends like Chief Party Organiser Cyrus Medora, Rabble Rouser Rabi Doraisamy and onetime Terror of Teachers (but actually a nice guy) Terence Tan. Rhordon, Deborah Lim and Susheela Daniel flew in from Canada. From the US came Ruby Lee, Annie Ho and Mayen Hsueh, with doting husbands in tow. Rabi, Penny Svasti and Tan Hin Bian flew in from Australia, and Daniel Vanniasingham from the UK. Hin Bian added greatly to the merriment. He donated a whole lot of wine.
Unlike many who prefer to hire their fun and games, this lot prefers to provide their own. So, the Glee Club of old warbled a medley of sentimental sixties songs including The Carnival Is Over and Leaving On A Jet Plane. Club founder Andrew Liew made a guest appearance and led the singing. He's from the Class of 1968, but we're an ecumenical lot. Before the Glee Club took to the stage, Sugar 'n' Spice had to reprise their Angel of the Morning, as they had 10 years ago. For the rest of the evening, Singer Jenny Cusay and singer/pianist Jun Masamayor kept the music flowing.
Paul Cheong, the director of catering and entertainment, chefs Low Boon Han and Zachary Ong, and their super attentive crew kept us all wined, dined and wondrously overfed all evening. We took out pics from food stations that lined the restaurant offering everything from kueh pie tee and popiah to roast prime rib and a dessert table groaning with onde-ondeh and other nonya kueh and an enormous chocolate cake. And then there was the delightful kacang puteh stall that came complete with sugared peanuts and boiled chickpeas. Just like we remembered. All this comes at a price, of course, and none of it would have been possible without the incredibly generous classmates who opened their hearts and wallets and underwrote the inevitable huge cost of extras - including the cost of upscaling a modest party at a social club to a pull-out-all-the-stops splash at The Clifford Pier.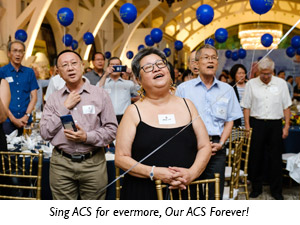 Emcee Jeffrey Leow who'd spearheaded the very first-class reunion back in the previous century, said the organisers had scheduled ample time for idle chatter. And chatter we did.
Fifty years or more years after you've said goodbye to your classroom for the last time, what do you want to do when you are with your old classmates? In the case of the ACS Class of 1967/69, the answer was dead easy. Eat, drink, reminisce, dance, gossip, sing. And eat some more. God willing, most of them hope to be around in another five years to do it all over again.
Irene Hoe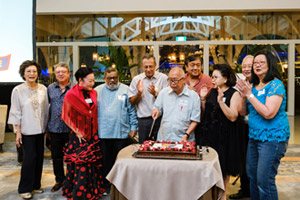 Mr Wan Fook Weng wields the knife much as
he wielded his iron discipline in class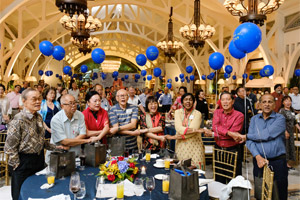 Our beloved teachers. What we can't understand is how some of them look younger than we do!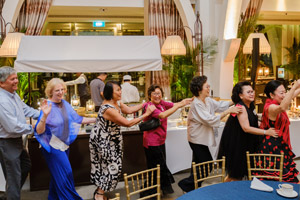 What party would be complete without a
conga line snaking through the tables?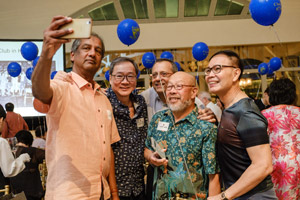 Wefies - a new skill developed since the last reunion