Board Changes at The ACS Foundation
The ACS Foundation is happy to announce their new Board of Directors that was officially formed on April 14, 2019. It will be helmed by Mr Cheo Chai Hong who takes over from Mr Richard Seow as Chairman as the Foundation begins a new phase with a new Board.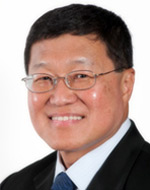 Chai Hong (ACS Class of '68) was a Director of the ACS Foundation from the Foundation's inauguration until 2016 and has served on the ACS Board of Governors as a member. He was also a former ACS OBA President. Until his retirement from the United Overseas Bank, Chai Hong was in the banking sector for over 30 years and was active in the Singapore Rugby Union. He also heads the Foundation's Grants sub-committee.

<![if !vml]><![endif]>

Retired directors for the Foundation include Dr Ngoei Foong Nghian, Rev Kenneth Huang, BG Lim Teck Yin, Mr Low Wee Ping, Mr Lim Jen Howe, Mr Ong Tek Khoan, Mr Oon Jin Gee, Ms Mildred Sim and Mr Tang Kee Fei.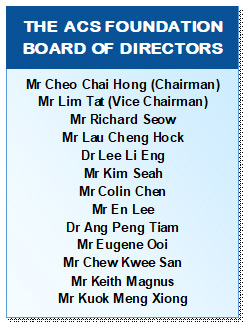 The Chairman and Board would like to express their sincere thanks to each of the retired directors for their wise counsel, valuable insights and important contributions to the Board and to the sub committees on which they have served at the ACS Foundation.
Mr Richard Seow (Chairman of ACS Board of Governors), Mr Lau Cheng Hock and Ms Lee Li Eng will continue as members of the ACS Foundation's Board. Mr Lim Tat, (ACSOBA's current chairman and Vice Chairman of ACS Board of Governors), also continues to serve as the Foundation's Vice Chairman. Richard will be leading the Fundraising sub-committee while Cheng Hock will head the Finance and Investment sub-committee.
The Foundation welcomes new board members Mr Kim Seah and Dr Ang Peng Tiam, both who sit on the Board of Anglo-Chinese School (International), as well as Mr Keith Magnus, Mr Chew Kwee San, Mr Colin Chen, Mr Su En- Lee, Mr Kuok Meng Xiong and Mr Eugene Ooi.

Kim Seah will lead the Foundation's Governance sub-committee. Starting professional life as an academic, he was Vice-Dean of the Law Faculty of the National University of Singapore before entering legal practice. Kim is a Fellow & Principal Mediator of the Singapore Mediation Centre. Apart from advising financial institutions, corporates and statutory authorities on transactional and regulatory matters, Kim is also legal adviser to the Association of Banks in Singapore (ABS). He is active at various levels of church life and enjoys reading and traveling with family and friends.

Dr Ang Peng Tiam is the Medical Director and Senior Consultant of Medical Oncology at Parkway Cancer Centre. He is the Chief Executive Officer of publiclisted TalkMed. He was awarded Singapore President's scholarship in 1977 and graduated from the National University of Singapore (NUS) for both his Bachelor's and Master's degree in Medicine. He then completed his Fellowship in Medical Oncology at MD Anderson Cancer Centre, Houston, Texas and Stanford University Medical Centre in 1989. Maintaining keen interest in research, he has published and presented numerous papers and abstracts. Peng Tiam has been bestowed with several awards in recognition of his outstanding contributions in medical research and public service. He was past President of Singapore Society of Oncology and a past president of the ACSOBA.

The Foundation's Programs sub-committee will be spearheaded by Keith Magnus, Chairman (Asia) and Global Partner at Evercore. With a long career in banking and finance, Keith has secured many awards as well as the prestigous title of Best M&A Adviser for 3 consecutive years (2015- 2017) at the Asset Tripe A Awards. He is active in the community, serving various boards such as the Nanyang Business School Advisory Council, Centre for Fathering ("Dads for Life"), NUS Medicine International Council and is Chairman of Alpha Singapore. He has previously served as a Director of Sentosa Development Corporation and concurrently as Chairman of its Finance and IT Committee, and Chairman of the Anglo-Chinese School PSG.

Chew Kwee San (ACS Class of '85, "O" levels and ACS Class of '87, "A" levels) is a 3rd generation ACSian who has previously served on the Management Committee of the ACS OBA as well as in the Boys' Brigade at the various schools and in Barker Road Methodist Church. He is an Executive Director of The Tecity Group which has diverse global interests and includes publicly listed Straits Trading Company Limited and a philantropic arm, Tan Chin Tuan Foundation.

Colin Chen, DBS Bank Ltd's Managing Director and co- Head of Financial Institutions and Structured Products, Global Fixed Income, has more than 23 years of investment banking and structured capital markets experience. He is a Fellow of the Financial Services Institute of Australia and Fellow of the Institute of Banking and Finance in Singapore and serves on several industry boards and committees. Colin has served the ACSOBA management committee as a co-opted member previously.

En Lee is the Head of Sustainable and Impact Investments in Asia at LGT, a leading private banking and asset management group with over USD 200bn in assets under management. At ACS and ACJC, he was active as a prefect, student counsellor, scout, and represented in track and field. He served on the ACSOBA Management Committee from 2012 to 2018 and is honoured to serve the ACS family once again.

Kuok Meng Xiong, or "MX", was extensively involved in property development across the world, spending the last 10 years as Executive Director of Development for Shangri-La Hotels & Resorts and developing new hotel projects across 16 cities. He currently s e r v e s a s a s e n i o r advisor to TPG Capital and Evolution Media Capital and is a Director for Kuok Investments ( S i n g a p o r e ) L t d ., Gunung Madu Plantation (Indonesia), and BBP Pte Ltd (Singapore). He is passionate about aviation and maintains an FAA Commercial Pilot license.

Eugene Ooi (ACS Class of '71) was the third ever ACS Rugby Captain. He read law at the London School of Economics. After a career in Banking and Law, he retired from Allen & Gledhill, Singapore's largest law firm, in 2017. He is now a Consultant at Linklaters LLP, an international law practice headquartered in London, where he spends part of his time.
General Manager for the Foundation is Ms Tan Tjioe Jan. Tjioe Jan (pronounced "Chew Yan") has taken over from Ms Joy-marie Toh who relocated to the U.S. last year and was the Foundation's General Manager since it was formed in 2011. The Foundation is grateful for her tireless work and input during her many years of service. Joy-marie is still active as an ACS OBA vice-president and a board member of ACS (Independent). Tjioe Jan was a former ACSian and looks forward to contributing to the ACS schools and family. She has worked in diverse industries both locally and overseas and is currently an active volunteer in outreach and community work.