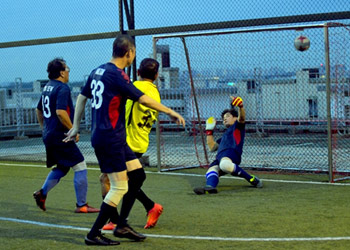 On August 1, about 50 ACS old boys from 5 different classes participated in a futsal tournament at Singapore G Building, 25 Tagore Lane, where the Class of 78 plays there every Thursday night under floodlights.
The competition was between the Classes of 78, 80, 85, 86 and 89. Class of 80, which has been playing together for many years, provided two teams while players from the classes of 85 and 86 joined forces for this tournament. The format was round-robin with five-a-side games of 10 minutes each. Even though 11 years separated the oldest team and the youngest team, memories and images of playing football in the quadrangle at Barker Road came flooding back as the tournament progressed.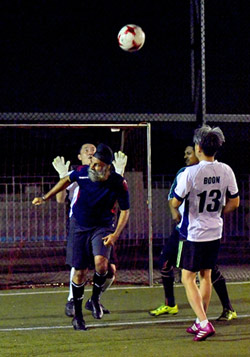 At the end of the day, it was the younger teams that showed the more senior teams a thing or two. Their fitness as the matches came thick and fast became evident. The eventual winners were the combined team of Classes of 85 and 86. For the youngest team, the Class of 89, it was the first time they had come together for football since leaving school. Judging by the turnout for that year alone, there is little doubt that we will be seeing more of them in the future. Their enthusiasm was infectious.
The recent history of Class of 78 shows that old ACS classmates tend to reach out to each other when the children have grown up and do not exactly need their parents around anymore. Arguably, every year goes through this process and it looks like it is Class of 89's turn now. To put the time frames into context, when class of 78 was graduating from Secondary 4, Class of 89 was in K2. To be playing together on the same platform now is a strong reflection of the unifying quality of team sports. Everyone enjoyed the tournament so much that there was immediate talk of holding regular futsal tournaments going forward, as the teams engaged post-tournament for dinner and drinks at a zichar restaurant opposite Singapore G Building.
There is more competition and excitement to come.
Thusitha de Silva (Class of 78)