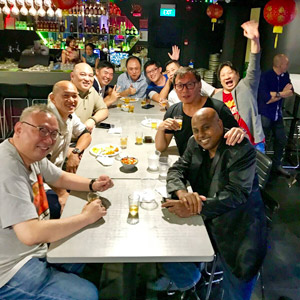 On September 7, more than 40 old boys from the ACS Class of 84 gathered at Club 52, The Seacare Hotel, to jointly celebrate their 50th birthdays. Organised by Ng Hwee Long and Titus Singam, the party turned out to be a memorable evening of camaraderie, fun and laughter.
The party kicked off with the school anthem which we sang with pride, emotion and fond memories of our school days in Barker Road. Titus was the DJ and compere for the evening and our live band comprising Xman, Alvin Bradley and Brian Wong performed retro pieces of the 80's. Whilst some participated in friendly games of American pool, others blasted their vocals at the karaoke lounge or simply caught up with old mates over a sumptuous Indian cuisine buffet.
The event was indeed a success. We are thankful for the ACS brand of education that provided us a good foundation in life and instilled in us the inimitable ACS spirit that binds us together.
We look forward to our next annual gathering, and many more good years to come.
Sam How