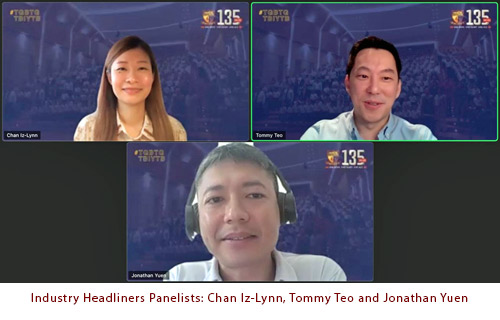 This year's ONE ACS Career Forum was again held via Zoom on July 17 and attracted more than 1,000 registrants. The Forum started with the opening panel, "In conversation with Industry Headliners" which featured our illustrious alumni Chan Iz-Lynn, CEO, BHG Retail Reit and Tommy Teo, Managing Director & Head, Southeast Asia, Vulcan Capital. The session was moderated by ACSOBA management committee member, Jonathan Yuen, Equity Partner, Rajah & Tann. Panel participants gained valuable and candid insights from our alumni panellists, from learning about their career journeys to understanding more about their businesses and the impact of various global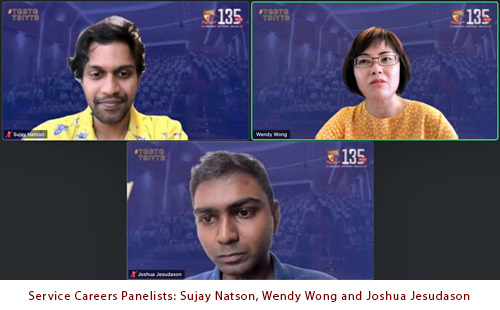 trends such as the advance of technology, the mobility of labour and the continuing effects of COVID on each of their respective sectors.
After the opening panel, the Forum broke into 2 concurrent streams of panels covering industries and careers such as service careers, Science, Technology, Engineering, Mathematics, Banking, Finance, Law, Medicine & Allied Health, and Entrepreneurship where our many alumni speakers engaged participants in wide-ranging and frank discussions and sharing, with some panels going on till past 1 pm!
The ACSOBA would like to express its deep thanks to all our alumni speakers who took the time to join us on a Saturday morning to make this year's ONE ACS Career Forum a lively and engaging session. And to all participants, thank you for taking the time to participate in this special event. We trust that you have all gained some useful perspectives and knowledge.
The ACSOBA hopes that with the easing of COVID restrictions, we'd be able to re-start in-person + hybrid sessions for 2022's ONE ACS Career Forum – watch this space for more details – till next year, TBIYTB