When eight Old Boys from the Class of 68 got together to set up a WhatsApp group chat in April 2018 for the purpose of organising their cohort's 50th Anniversary Grand Reunion, little did they expect the group to grow exponentially to 30 in May and then 60 in August. Currently, the number of members stands at 94.
Since its formation, the group chat has been instrumental in rekindling the inimitable ACS Spirit amongst members of the cohort who now meet regularly for lunch every last Friday of the month at the Revenue House Cafeteria along Thomson Road. Ad hoc gatherings are also organised whenever those from overseas are in town like the one held at the Raffles Town Club to welcome Allan Woon from Sydney, Australia and Mark Sng from Korak, Thailand at the Raffles Town Club on January 23.
According to Derek Seah, one of the group's original eight members, "The group chat serves as a platform for our members to enjoy each other's company, catch up on our good old ACS days, and have good fun and fellowship as we move into the autumn of our lives. Strict rules apply though. Postings of fake news, politics, pornography and seditious/defamatory/ derogatory remarks are taboo. As majority of the group members are Christians, the group chat is also used as a channel for anyone requesting prayers as we have a few prayer warriors in the group ready to pray for any one in need".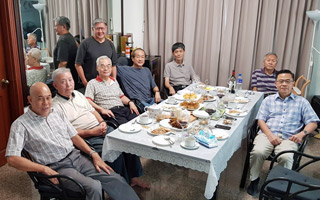 The 8 Founders of the Group Chat

From left: Jeffrey Lim, Ang Kok Peng, Tan Seng Joo,
Michael Wee (standing), Derek Seah, Jeffrey
Cheong, Lee Fui Joon and Alfred Chan
If anyone from the Class of 68 wishes to be included in the group chat, please contact Derek Seah (+65 98575041).