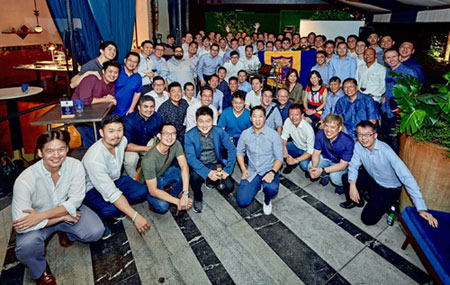 On January 31, close to a hundred Scholars, Officers and Gentlemen from the ACS (Independent) Class of '99 reunited at Publico at the new Intercontinental Hotel on Nanson Road, to celebrate their 20th anniversary.
Now slightly rounder around the edges, these old boys from decades past continued on conversations left hanging two decades ago, as if no time had passed. "I've never seen such an assembly of ACS boys since the last Chapel at the CPA twenty years ago, and even then, not every class was present!", said an attendee, who chose to remain anonymous.
The boys were joined by their former teachers Alistair Chew, Simon Bongard, Jason Chin, Lee Jia Hui, Julie Quah, Chia Choy Kian and Kenneth Ong, whose presence served to remind us that, while the curricular lessons might be long forgotten (the Mole Concept, anyone?), the relationships they forge as role models indeed stand the test of time. There was much banter over an evening of good food, ample drink and revelry, reminiscing the good times spent within (and, for some truants, outside of) the walls of the Dover Road campus.
Like every school programme, the evening was peppered with activity like teachers' speeches, class photographs, and impromptu interviews, hosted by the inimitable Kamil Haque (4.3 Caleb '99), now founder and artistic director of Haque Centre of Acting and Creativity. It was, as we've always come to expect, another Incredible Haque performance. There was even time for former Principal Dr Ong Teck Chin to make a cameo appearance via video projection. And like all good reunions, a Lucky Draw was organised, with the grand prize of a stay at the Intercontinental sponsored by Kishin RK (Gideon 4.6 '99), who was also the venue sponsor.
The idea for a reunion was mooted when Daniel Lin (4.7 Job '99), now founder of crowdfounding platform FundedHere, organised a table at the 2018 Founders Day dinner for the same cohort. Daniel is also a father of five (yes, five) boys, two already running through the halls of ACS Junior, and the other three following suit.
"The friendship bonds and our common gratitude to our teachers are unique characteristics of the ACS spirit. Having an occasion to bring our teachers and friends together to celebrate life and reminisce on shared experiences was what motivated me to organise the 20th anniversary reunion for my batch," said a teary-eyed Daniel.
So, what's changed in the last 20 years?
"Save for a few pounds and wrinkles, it was like nothing had changed over 20 years; and that's what made it so awesome. Teachers, classmates, lifelong bonds; timeless just like the stories of yesteryear we hold so dear. Brilliant gathering and turnout – onward to 2029 gentlemen. The best is yet to be!" said Terald Ichige, 4.13 Cornelius '99, now a content marketing strategist – the very kind of role that only an ACS boy could snag.
Closing off the evening was a rowdy, accidental baritone rendition of "ACS Forever", sung, presumably, to the tune of our beloved school song.
Tan Szue Hann, 4.12 Abel '99