A

Band of Ruggers

!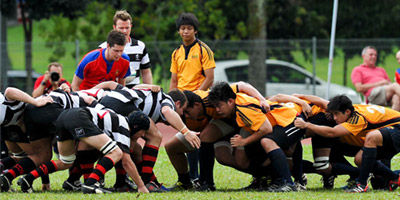 It is infinitely inadequate to put down into words what the Oldham Rugby Club means to the band of brothers who toil and laugh alongside me. I will try however, while not attempting to speak for the team, to give you an idea of what the Club is from the eyes and heart of a player.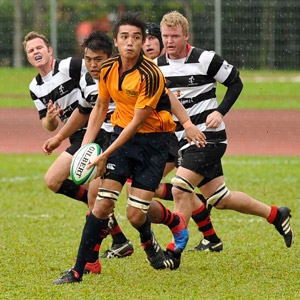 In 2009, a merry old band of old men/boys got together in a typical ACS setting and started talking about their glorious youth (which they will claim is currently into its 2nd phase). The idea of getting everyone back together again, involved in a game we all love and respect, and leading the way for future generations was hatched from this meeting of great minds.

Our first season was a revelation; an indefinite number of generations of ruggers came by and discovered that they hardly knew anyone else outside of their batch. Those who carried with them handy reputations were accorded reverential treatment, yet hardly anything else was known about that guy with the monster boot, or the wizard or the muscle-bound neanderthal etc.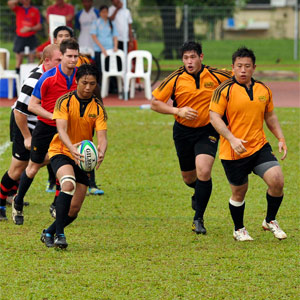 Our first season was about discovery. Suffice to say, we were not the best team in Singapore rugby-wise. The second season saw a revamp; a concerted effort to bring the good name of Oldham up the rugby club ranks. We toiled, as all ACS teams do, under the gaze of the brilliant coaching staff. We practised, we practised, we practised. And we still could not finish the season any better than we did before. It seemed this Oldham team was stuck.

And then came season 3, this season; a revolution. The team started becoming a team; we trained together, we ate together, we spent time together. At coffeeshops, hawker centres, fine-dining establishments, libraries, watering holes etc. If you spotted an Oldham rugger on the streets, there was sure to be at least one other in close attendance. And make no mistake, the group consisted of boys from all over the island and other continents, from other established rugby-playing schools and some less-established ones. Yet it did not matter if you were schooled in ACS, because this season, everyone became part of ACS. And we are now a far better team for it.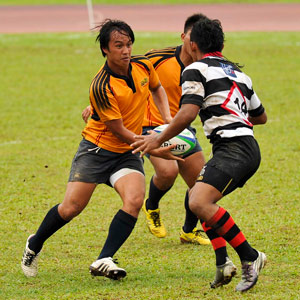 While we aren't yet the finished article, we are at least further removed from the early days of strangers and mismatches. We have made mistakes, will continue to make them but are now able to say "hey! no problem, he'll cover for me." Now, we have a family outside the home to take care of us. It does give you a warm, fuzzy kind of feeling.

I could go on, but the story doesn't end. What started out 3 years ago as an initiative to bring old boys back into the mix has blossomed into an inspiring movement that can only get stronger, but not without the continued efforts of its parts.

From the eyes and heart of a player, i see a pioneering bunch of boys playing under the flag of Oldham, doing our best to be of noble ambition and character, in the service of God and nation. I see a bunch of good friends, make that great friends, setting higher standards for self and for batches to follow, leading by example and giving back to the community whenever the chance arises. I see a wonderful future for Oldham Rugby Club.


In parting, I would like to extend my gratitude to all who have come before us and all who are with us. And also, an invitation to everyone, to be part of a movement that benefits future generations. The Old Boys are our heart, the helpers our hands and legs, the coaches our head. And we, are the lifeblood that sustains Oldham. The Best Is Yet To Be!

Xu Renhan*
Captain of Oldham Club

*

A true-blue ACSian, Xu Renhan was from the ACS (Primary) Class of 1993, the ACS (Independent) Class of 1997 and the ACJC Class of 1999. A teacher in ACJC since 2010, he is in charge of the ACJC rugby team.





Photographs courtesy of Mr Leslie Koh