Oldham Women's Hockey Team Outruns The Virus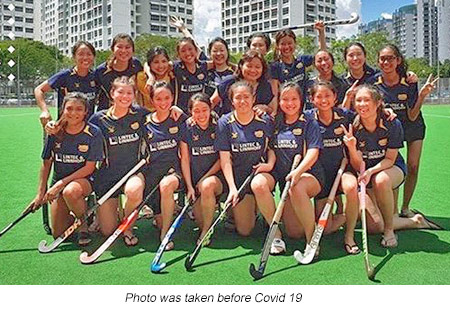 Given the nature of hockey as a team sport, entering Phase 2 of the Circuit Breaker meant that training sessions were unlikely to resume in the initial stages, and the ability to train as a team in full strength was something we could only envision in the distant future. Hence, aside from hosting Zoom workout sessions where we connected virtually to explore various forms of home exercises, the committee sought to introduce novel ways to keep the girls engaged and motivated to maintain our fitness – and what better way to achieve this than taking part in a virtual race!
#SGOutrunCovid is a virtual race against Covid-19, presented by New Balance SG and organised by The Co-organisation Pte Ltd in conjunction with Sport Singapore's GetActive! Singapore 2020 campaign. For every 10,000km clocked collectively by participants of this virtual race, 50 pairs of shoes were donated to frontline healthcare heroes.
Priding itself as being more than just a race, #SGOutrunCovid set out to rally local Singaporeans to stay active and strong as a nation. Naturally, the Oldham Women's Hockey team saw this as an excellent opportunity to maintain our fitness levels while contributing to a social cause. Whilst the event itself spanned from June 15 to August 8, we only made the collective decision to contribute our distance as a team towards the end of July – setting out to achieve a target of 100km over the course of 10 days.
Participation in this initiative was completely voluntary but the response from the girls was extremely encouraging and we received many submissions of clocked walks and runs every day. Taking part in this virtual race gave all of us yet another reason to remain fit and active, and helped to promote greater accountability on an individual level as well. Of significance was the fact that we ended up not just exceeding our original target of 100km, but doubling the figure to 200km! This was a testament of the great effort put in by the team.
The race eventually concluded with a grand total of 168,326.57km clocked, 500 pairs of shoes donated and met its objective of "outrunning" the virus by achieving a cumulative distance more than the number of Covid-19 cases in the community. Such is the power of collective action and Oldham Women's Hockey is delighted to have been a part of it!
Angela Su