Rev Dr Gordon Wong - the New Bishop
of The Methodist Church in Singapore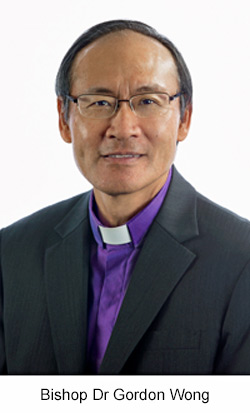 The Rev Dr Gordon Wong, 59, was consecrated as the new Bishop of The Methodist Church in Singapore (MCS) on 4 December 2020, succeeding Bishop Dr Chong Chin Chung who retired after serving as Bishop for a term of four years. As the spiritual leader of MCS, Bishop Wong takes on the role to oversee MCS's 46 churches and provide counsel to 15 Methodist schools. He also offers support for Methodist Welfare Services (MWS), the social welfare arm of MCS which runs 20 community-based care centres and programmes.
The Rev Dr Wong holds a BA (Honours) from the London School of Theology and a PhD from the University of Cambridge. Since 1986, he has served as Pastor-in-Charge of Cairnhill Methodist Church, Christ Methodist Church and Covenant Community Methodist Church, and pastor of Fairfield Methodist Church and Barker Road Methodist Church. In 2013, he was elected President of the Trinity Annual Conference (TRAC), a connection of the 21 English-speaking Methodist churches in Singapore. He was also the Bishop William F. Oldham Professor of Old Testament at Trinity Theological College where he lectured on the Old Testament, Hebrew and Homiletics for 17 years.
The Rev Dr Wong is married to Lai Foon and they have two children Deborah and Jeremy. He is also an author whose publications include a book on the relevance of Christian faith (God Makes Sense), Old Testament commentaries on the books of Daniel (Faithful to the End), Habakkuk (God, Why?), Isaiah (The Road to Peace: Pastoral Reflections on Isaiah 1–12), Ruth (The Power of Love) and an academic monograph entitled Foolish Leaders and the Will of YHWH: Editorial Effects in Isaiah 19.