In the Malay language, "rojak" means "mixture". Most of us know the tasty dish which is a delightful mixture of different ingredients. As I look back over 96 years, my life has certainly been a mixture of distressing, difficult and painful events on the one hand, and enjoyable, encouraging and wonderful things on the other. However, overall, the "rojak" of my life has been very good.
The Best is Yet to Be – Beware Complacency
When my father enrolled me in ACS, it was very easy to get in – they were eagerly looking for more students. We were considered the "Poor Cousin" behind the better schools of that day – Raffles Institution, St Andrews School and St Joseph's Institution. I love our school motto – it always reminds me never to be complacent. I am glad to note that our school has kept trying to improve through the years and has become a school of choice.
T W Hinch – Kind Principal Extraordinaire
Mr Hinch was my principal both in Primary and Secondary School. He introduced all kinds of sports to our school including cricket. He set up the "house system" which encouraged friendly competition for all of us students. Years later, after the war, while I was studying in the UK, I had the honor of staying in his home in London. He was present at my wedding and escorted my then fiancé, Kismet, down the aisle in place of her father who died during the war. I shall always remember the kind way he treated all his students.
Dr Thio Chan Bee – teacher, mentor & spiritual guide
Looking back, I appreciate the weekly chapel services at ACS. In Secondary school, one of my teachers, Dr Thio Chan Bee led a small group of ACS boys in a weekly Bible class at Kampong Kapor Methodist Church. He introduced us to the Moral Rearmament movement that taught us to spend a quiet time each day learning to listen to the voice of God. We were guided by four absolutes: Absolute Honesty, Absolute Purity, Absolute Unselfishness and Absolute Love. These are still important to me to this day.
Thank You ACS
I am thankful for this opportunity to express in writing my thanks to the ACS family for all the blessings of life that I, and my family – children, grandchildren and perhaps soon, one of my 8 great grandchildren – have received from her. Whatever difficulties you may be facing in life, always remember – The Best Is Yet To Be.
Your older brother in the ACS family,
Cecil Wong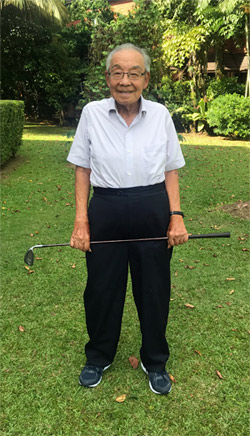 Mr Cecil Wong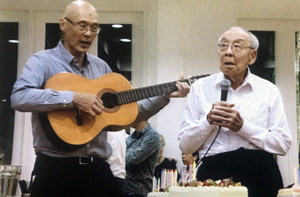 Mr Cecil Wong Mr Wong celebrating his
96th birthday on 30 September 2018,
with son Rev Norman Wong on the guitar