2019 marks an eventful decade of sports and community outreach activities for Oldham Club, the sports, social and community outreach arm of the ACS Old Boys Association (OBA). Membership has grown and surprisingly, so has the number of lady members participating in hockey, touch rugby, basketball and the recent addition of the ACJC Alumni Choir Chapter. Today, Oldham Club boasts eight chapters (Badminton, Basketball, Choir, Hockey, Rugby, Squash, Tennis and Water Polo) and more are in the pipeline to be introduced soon.
Curious to find lady members in a club which is perceived to be a predominantly male club, the ACS Echo spoke to several Oldham Club lady members recently and here is what they shared with us.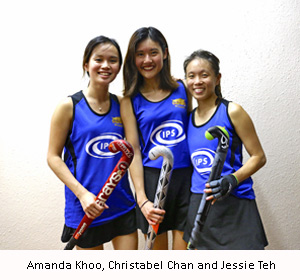 The Ladies Hockey team came about when Ms Christabel Chan, Ms Amanda Khoo and Ms Jessie Teh decided to come together to continue playing the sport they love. They were looking for something more than just a recreational club and Oldham Club was the answer.
According to Christabel, President of the Ladies' Hockey Team, "Although we were the only ladies' team at that time, Oldham Club was very supportive and made it easy for us to assimilate into the club. Oldham Club aligns itself beyond gender and its main focus is on mentorship and guidance through a strong community of both men and women. Similarly, we also share the same vision and belief of mentorship for our younger players".
Like all new budding start-ups, it was not plain sailing for the Ladies Hockey team which has been fraught with issues and challenges. There are funds to raise for equipment, the right coach to engage, the difficulty in getting committed players to field a game (especially when members are made up of a mix of working adults and students), and the task of getting every member to be aligned with the same vision.
"We are still managing these issues with help from various parties and with belief, we have made considerable progress since Day 1. We are thankful to the Rugby Chapter who allowed us to tap on their fundraising event last year, our generous sponsors, those who offered valuable advice on how to address the issues we were facing, and last but not least, our ACJC coach, Dawn DeFoe who has selflessly given her time to coaching our team", Amanda (Vice-President) said.
In spite of the ups and downs, the ladies overcame their obstacles together. They participated in the National Women's league for the first time and did remarkably well to reach the semi-finals stage.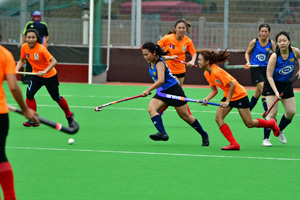 "Considering we were the newest team in the league, it was a pleasant surprise and indeed an encouragement that we managed to reach the semi-finals. What was heartening was the full commitment of our fellow teammates despite their hectic schedules. Students and working adults alike would always rush from school or work to attend weekly training sessions in the evening", Jessie (Team Captain) commented.
Whilst the Girls Hockey team made history as the first girls' sport team in Oldham Club, so did the internationally renowned ACJC Alumni Choir (Choir) for being the first non-sport chapter in Oldham Club.
The Choir comprises singers of various ages and backgrounds who have been inspired by their time in the College. Formed in 1994 to coach and perform with the College Choir in yearly concerts and Christmas carolling, it has grown to become more than just a group of people coming together to sing for leisure, to be a closely-knitted family that is united by ACS ideals. Thanks to the unyielding support of former ACJC Principal, Mr Wan Fook Weng, who was instrumental in finding a 'home' for the Choir in Oldham Club, the Choir is now able to carry out its activities under the larger umbrella of the ACS family.
The Choir Chapter Head, Ms Suzanna Ho, reckons that the fit is perfect as the Choir's underlying motivations are similar to that of Oldham Club's, i.e. sharing Christian values and traditions learnt in school, mentoring and guiding future generations of ACSians, and providing opportunities for both alumni and students to pursue their craft at a higher and deeper level. "There were initial challenges, though. The perception of Oldham Club as a predominantly sports-focused platform was one and we were not sure that the Choir's activities and different requirements could be accommodated. There were also some uncertainly from an organisational perspective in terms of ensuring that our organisational practices and processes are aligned to those of the OBA, but all these issues were smoothly ironed out", Suzanna elaborated.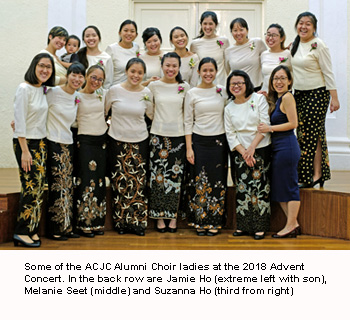 Since 1995 when it first managed to gather a large-enough group of committed singers to perform a segment in the ACJC Choir's An Evening With Friends concert, the Choir has marched on to present its own Advent concerts, embarked on international competition and concert tours, made professional recordings, participated in master classes with internationally renowned conductors and organised community singing projects open to the public; it has also received many accolades and warmed the hearts of international audiences around the world. All these achievements can only be attributed to the passion and commitment of its members who in their pursuit of excellence in music, collectively inspire and draw on each other's wisdom and experiences as they share the school's maxim "The Best is Yet to Be".
As choir member, Ms Jamie Ho, puts it, "One of the most special things about being part of the ACJC Alumni Choir is our pursuit of excellence in music, whilst not forgetting the underlying motivations for singing – that is to bless our audience and to sing praises to God. This is most keenly felt during the preparations for our annual Advent concert in early December every year. Much thought and prayer go into the song selection process to create a concert repertoire that tells a unique Christmas story each year".
"The camaraderie that comes through in our music is incredible, especially on our Advent overseas concerts when lasting friendships are forged", Ms Melanie Seet, another Choir member, added.
The presence of the lady members has been a catalyst for Oldham Club to realise its mission of counselling and sharing the values and benefits of the ACS culture and brand of education with others. The Oldham band of sisters we spoke to are bullish about opportunities for more lady members to take the lead in pushing boundaries in non-sports related interests in Oldham Club. Some reckon that it will be interesting to have a combined gender chapter in an area that is beyond academics or extra-curriculum activities offered in schools, such as a oneday coding course for current students and the less privileged members of the community, while others see merit in projects that promote female entrepreneurship or engaging the elderly. Whatever they are, these initiatives will certainly accelerate Oldham Club's mission of giving back to the community.
As part of the ACS education encourages us to probe boundaries, Mr Y.T. Low, Head of Oldham Club, has challenged our OBA lady members to review and share what they would like to see Oldham as a Club in terms of relevance to women as students, young adult career women, mothers and mentors.
"We would like to see our lady members challenge the norm, take leadership or at least a direction to see their roles within the Oldham community. Hopefully, with this small seeding, our ladies' participation can grow, be sustainable and go on to take key leadership roles in the Club", Mr Low said.