The evening of October 25, 2018 got off to a smashing start as ACSians from the Class of 68/70 came out of the woodwork to join a swinging party. The cocktail hour was spent catching up with old friends, introducing/re-introducing spouses and exclaiming over everyone's matching hair colour (grey).
With the catch up in full swing, wives and daughters of old boys lured us into the ballroom with popcorn so that we could begin the evening. We were then "urged" into formation for the year photo by our young MC – Neil Ang (Dennis Ang's son).
Much laughter, shouting, gesticulating and general merriment went into the taking of the photo but in the end, we got it. The photo was very efficiently printed up for our end of evening giveaways together with our ACS towels and school badges.
Dennis Ang who is the prime motivator and organiser for our reunions gave the welcome address and started the evening with a rousing rendition of the school anthem.
After the most important song was played, our Men In Black - the band - launched into a series of hits from our teenhood. ACSians love their music, so the singing was not only confined to the stage as voices from all corners of the room joined in. And some even came to the stage to share the mic.
The band was helmed by the professional expertise of Philip Ding with Su Lin (Dennis's wife), Michael Chia, Alex Chan, Dennis, Ben (a younger old boy) and Eugenia the vocalist.
Alex Chan worked diligently (as has been his style always) to present a very nostalgic and memorable video of the last 50 years. We enjoyed the video so much, that Alex had to do even more work and upload the whole video to Google Drive so that all 140 of us could access it anytime!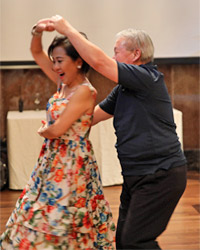 Grace was said by our own Jimmy Goh who had flown in just for the occasion, which lent just the right air of solemnity and thanksgiving.
The mood was so vivacious and contagious that Chan Mei Ling opened the dance floor and then the floodgates opened as a whole lot of us joined them to dance the night away.
The committee would like to acknowledge the kindness and generosity of Dennis and Su Lin for opening their home week after week (for many, many weeks) for rehearsals, committee meeting etc. Here's to the next 50!
Mimi Somjee