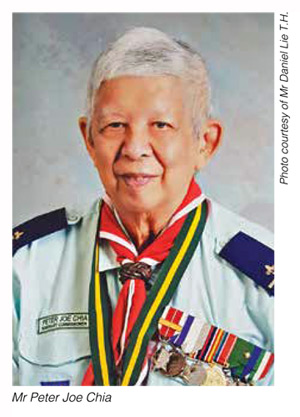 Mr Peter Joe Chia, a true son of the Anglo-Chinese School, was called home to the Lord Jesus Christ on 25 June 2021, leaving behind his wife Diana, daughters Pearl Jocelyn and Petrina Jeanne, and loved ones. He was 86 years old.
Peter completed his 'O' levels in 1953. He returned to his alma mater as a teacher in 1955 and after a sterling career in the holistic development of boys into young men. He retired as the Unit Head of what is now known as ACS (Primary).
Former schoolmate and fellow educator, Dr Lawrence Chia, the former Principal of ACS (Independent), describes Peter as a remarkable ACSian who was always alert and available to advise and assist. "Fully devoted to duty and always pleasant and persuasive in inviting and including others in the worthy causes he was involved with, Peter was remarkable in balancing his many commitments, be it his career-calling or exemplary service to church and community. May his life and legacy lead us to follow more closely the Lord whom he loved and served, and in whose presence he now rejoices in. This and memories of Peter certainly remind us that The Best Is Yet To Be", Dr Chia said.
As a young teacher, Peter was popular and well-respected and always in tune with the pulse of the school. Back then, Coleman Street boys would settle scores with fisticuffs on the last day of school at Sands House, now Bible House. Somehow, he would show up just in time when it was about to become dangerous. His authoritative voice was sufficient to scatter the group.
While teaching academics was his job, developing character was clearly Peter's passion. He was involved in the Scouting movement his entire life, as he knew the impact such activities could have in developing young boys. He once supervised the building of a rope bridge across the Bukit Timah canal, in front of the ACS Barker Road campus. Today, that would be frowned upon as child endangerment, but in the 50s and 60s, it was training!
Peter knew how important discipline would be later in life and sought to instil it in the students under his charge. His stern demeanour captured the attention of many boys, as did his use of the cane. Some Old Boys still remember that he kept many canes in his office, and the rumour in school was that he would give those unfortunate enough to be sent to his office a choice – a choice of the size of the cane! But this tough way kept the boys in line. And many of them have gone to achieve great things, such as Speaker of the Parliament of the Republic of Singapore, Mr Tan Chuan Jin.
Inspired by his biblical namesake, he was a rock for The Methodist Church in Singapore. In 1976, he saw growing needs amongst the sick and the elderly in Singapore. Embracing true Wesleyan principle of "doing all the good you can, by all the means you can, in all the ways you can," he, together with several like-minded church members, established the Methodist Welfares Services (MWS) in 1981 to model the love of Christ by serving others in need. He served as a member of the Management Committee and later as Vice-Chairman of MWS for five years. Today, MWS meets the needs of 8,400 disadvantaged seniors, families, children and youth. It was fitting that in his latter days, he was cared for by them at their Bethany nursing home.
Peter also served the church as the editor of the Methodist Message newsletter, a job which he took very seriously. The Message came out regularly during his editorship. Leading by example, this culture of service touched and inspired many lives. For his service to the Church, the school, and scouts, he was accorded many awards, including multiple National Day Awards.
Retirement did not seem to slow Peter down. He was always a regular attendee of the ACSOBA Retired Teachers' Day Dinners and the ACS Founder's Day Celebrations, where he was deservingly feted like a celebrity by old boys. He also attended reunions, formal and informal. Prior to COVID, he was a regular feature at fortnightly breakfasts with some retired old boys at Tiong Bahru Hawker Centre. Despite his age, he was still able to recognise those who had been his students 65 years ago!
Peter had devoted his life and given his all for the cause of The Methodist Church in Singapore, the Anglo-Chinese School, the Singapore Scouts Association, Singapore Children's Society and Children's charities. Indeed, everything he did for these causes was done with gusto, determination, and a genuine heart to share and serve.
Peter's family is grateful that many turned up at his wake to share their treasured memories of a man whom they just knew as dad, grandpa, and brother. According to Petrina, Peter's younger daughter, "From their personal experiences and anecdotes of my dad, a clear picture of 'The Peter Joe Chia Philosophy' soon took shape: You do not need to be rich to help people. You just need to share your time, your efforts, and your words. A tiny action for good by one man can cause ripples that impact many".
"Even to his last, my dad wished to help. He instructed my sister and me to use the monies collected to fund bursaries for needy children. Be it a one-off donation or a longer-term contribution to society, I know that my dad is smiling now at how everyone is chipping in to help in all ways, big or small", Petrina said.
The ACS Family thanks the Lord for the life of Peter, and his family for sharing him with us. He is one of those men who have indelibly left their mark behind. ACS would not be the institution it is today, and many of its alumni would not be who they are, without his hard work, devotion and most of all service.
Like the parable of the talents, we can only hope to be as faithful with the gifts we have been given, as Peter had been with his.
To God Be the Glory, the Best is Yet to Be!
The ACSOBA on behalf of the ACS Family