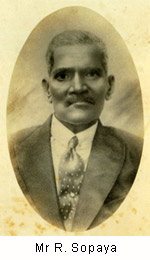 The ACSOBA is pleased to announce the donation of a rare Anglo-Chinese School artefact to the Archives of the Methodist Church in Singapore (MCS) by Mr Kanan Bala (ACS '73) on 5 July 2021. This treasured artefact was a book prize presented to his great grandfather Mr R. Sopaya in 1889 by Bishop William Fitzjames Oldham himself for outstanding proficiency in grammar.
The book (A Border Shepherdess by Amelia E. Barr and Published by James Clarke & Co. in 1887) contains an award certificate signed by Principal W. F. Oldham which indicates R. Sopaya as the recipient of the 1st prize medal for grammar.
Prior to the donation of the artefact to the Methodist Archives facilitated by Rev Dr Andrew Peh, the ACSOBA interviewed Mr Kanan Bala as well as his nephew Dr Kannoo Ravindran who had helped to connect him with the ACSOBA.
ACSOBA: We are so excited to learn of this amazing ACS artefact. Kanan, could you please tell us more about this artefact and who it belonged to?
Kanan Bala (KB): I found this book in my maternal grandfather's vast library and as I flipped open the cover of the book, I realised that my great grandfather, R. Sopaya, had won the grammar prize on Founder's Day of 1889, three years after the school's founding so it was really very exciting for me. Unfortunately, my great grandfather died in the early 1930s long before I was born and, like most young children, I did not think to ask my grandparents about their lives or about previous generations. It is only when you grow older that you wish you had asked such questions so that you better understand your heritage and history. I do not know where my great grandfather was born but I have gleaned some information about him over the years. Given that he attended ACS in 1889, he was probably born in the 1870s. My great grandfather lived in a house at 268 Serangoon Road. It still stands today and houses several local businesses. Professionally, he served as the Chief Tamil Interpreter in the district court before he retired in December 19261. At a Legislative Council Meeting in 1927, he was presented with a Certificate of Honour and a Medal by H. E. the Governor on behalf of H. M. the King (King George V) in recognition of his loyal and valuable service to the Government of the Straits Settlements for 36 years in the Administration of Jutice2. My great grandfather had 13 children and my grandfather, the late Dr R. S. Kannoo, was one of them. All the males in our family attended ACS.
| | |
| --- | --- |
| | |
ACSOBA: That's lovely! Tell us more about yourself and what ACS means to you.
KB: Both my grandfathers, my father, my siblings, and my uncles and cousins attended ACS too. There has always been something special about ACS. I think that ACS grounds you. It is not just about education but also social interaction, inclusivity and how you get along with others. This is why the ACS fraternity is so strong. I had known that both my grandfathers attended ACS, but I did not know that my great grandfather had attended ACS as well until I discovered this book. This is a great book and as someone who loves history, I like to keep records and artefacts that show us our heritage and where we come from, how things progress, so this book has been in my possession ever since. I was the first batch nationally to take the 'O' levels in 1971 and the first batch again to take the 'A' levels two years later in 1973. After national service, I took up an accountancy course in the University of Singapore and later worked in a public accounting firm for a while before working in a bank for 39 years. I retired recently in 2019. I continue to meet up regularly with my friends from ACS including my primary one ACJS classmates and there are about 100 of us connected via an alumni WhatsApp chat group where we celebrate achievements and mourn together when we hear news about bereavements.
ACSOBA: Thank you for your service and contribution to ACS even in your retirement years through the donation of this artefact. What do you hope to tell ACSians who get a chance to see this book in the future?
KB: I hope this book gives them a sense of perspective and excitement in terms of how the school has progressed. This book was presented so early in the initial years of the school's founding and it is visceral to have something of this nature. Old boys recognise that ACS is their alma mater, and they are always so proud of the school long after they have left her. I hope that younger ACSians receive the education that ACS provides not only in terms of book study but also in the social domain to contribute to society as useful citizens and to lead a fulfilling life. My ACSian schoolmates also go the distance to help one another out in many ways so I hope that ACS alumni will continue to do the same moving forward.
ACSOBA: Thank you once again Kanan for your generous donation and for sharing your insights with us. Ravi, could you also share with us how the donation of the artefact came into being?
Kannoo Ravindran (KR): I came to know of this artefact over dinner with my uncle Kanan when we were talking about ACS and our memorable teachers. At that point in time, Kanan asked me if I knew that my great grandfather's dad (R. Sopaya) went to ACS. I replied, "You are pulling my leg, right? I will only believe it if you have proof of this." Kanan invited me back to his place after dinner to show me the artefact that he had in his possession. The first things that went through my head were, "Oh my goodness! Wow! What are you doing with this artefact Kanan when this should be placed somewhere where the public can better appreciate it?" I took the liberty of sharing the image of the artefact with Dr Ang Peng Tiam, our former ACSOBA President, privately over the following days. He also shared my excitement and went on to tell me about the existence of an ACS Museum. Once I understood that there would be an institution possibly interested in displaying the artefact, I informed Kanan about it and he readily agreed to the donation. I got in touch with Dr Ang again who then gave me the contact information of Morgan, and the rest, as they say, is history.
ACSOBA: Thank you, Ravi. We are so glad that your efforts at engaging us has brought us together and that Kanan will be donating the artefact to the Methodist Archives. Please share your personal reflections on this artefact with us.
KR: As an educator, I was ecstatic to be the quarterback who brought all the relevant stakeholders together so that present and future generation of ACSians can take pride in the rich history of ACS. I am excited that ACSians will now get a chance to appreciate this artefact and savour some of the foundations that contributed to the ACS spirit. To me, this artefact serves as additional proof that Bishop Oldham's vision of Christian education – which included children of all races, creed, class, colour and culture – was not just hearsay or passed down by word of mouth but something that can be substantiated with tangible proof. As a professor, I feel very blessed every time I teach a class. Whether the class is large or small, this spirit of education allows me to celebrate the differences of opinion, culture, mindsets, personalities, class, beliefs that students bring to the classroom while empowering them with the necessary skills to be successful, open minded, hopeful, and happy in life.
ACSOBA: Thank you very much, gentlemen. To God Be The Glory, The Best Is Yet To Be! '
The original artefact (held by Mr Kanan Bala in the photograph above) will be stored in the Methodist Archives and preserved for posterity while the first edition of the same title from the same print run (procured by the ACSOBA and held by Dr Kannoo Ravindran in the photograph above) will be put up for display in the ONE ACS Heritage Gallery later this year. The ACSOBA is looking to reproduce the award certificate found in the original artefact and to include this reproduction in the display copy.
"A book prize awarded to Sopaya and signed by Oldham himself! This is so precious and makes my service in the council of archives so rewarding," said Rev Dr Andrew Peh as he received the artefact from Mr Kanan Bala during the handover. If you are holding on to artefacts from the early years of the founding of ACS and the Methodist Church in Singapore, please consider donating them to the Archives or to the Heritage Gallery.
To God Be The Glory, The Best Is Yet To Be!
1 https://eresources.nlb.gov.sg/newspapers/Digitised/Article/ singfreepressb19270114-1.2.69
2 https://eresources.nlb.gov.sg/newspapers/Digitised/Article/ maltribune 19270824-1.2.35