Sharing & Keeping Spirits High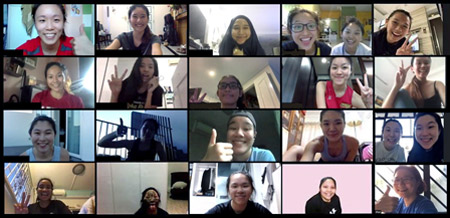 With the nation partially locked down by circuit breaker measures, Oldham Club members found ways to keep fit, maintain strong bonds and continued friendships, and more importantly find ways to do their bit for the community.
The Oldham Hockey girls were actually considering a training and/or leisure trip together with the ACJC girls as a reward or motivation for both teams, but this had to be put on hold given the current situation. However, they kept in touch through weekly e-workouts which included a diverse range of training such as HIIT Tabata and Zumba.
According to player Angela Su, "Individually, the girls also found ways to spread some positivity by contributing to donation drives for migrant workers. One even started her own home-based cold brew business! In the near future, we are looking to organise cooking/baking workshops by our own home chefs".
Whilst staging Zoom calls to keep in touch and banter about YouTube videos on how to improve serve, Oldham Tennis members also found and shared avenues to donate to the Malay Sports Association (Tennis) and raise funds for various causes with the Community Chest.
"Now that courts have reopened island wide in Phase 2, we look forward to returning to the game we love. We will do so responsibly, and with a newfound appreciation of the simple blessings we enjoy through sport and friendship", said Mr Jonathan Quek.
On the Choir front, the annual An Evening with Friends Concert presented with the ACJC Choir had to be cancelled. To mark the weekend in which the concert would have taken place, the choir released videos of past concert recordings, and on May 31, premiered the choral arrangement of the piece entitled "记得吗?" which translates to "Do You Remember?". Arranged by the renowned Xinyao composer and CEO of All Saints Home, Samuel Tan, the song was originally written in 2015 for the documentary 我们唱着的歌 The Songs We Sang.
"As sung in the last line of "记得吗?" -- "the flower that bloomed in the desert finally has its beautiful spring" – we embarked on this project to transcend the physical distances between us with the unifying power of music, and to come through this challenging time together", Ms Suzanna Ho stated.
The home-based recording brought 91 singers together virtually and was an entirely new experience for the choir. To access the recording, visit https://acjcchoir.sg/aewf2020/.
Proceeds from the commission went to All Saints Home, and the link to support the elderly and destitute taken care of by All Saints Home is also on the site.