From Hobby to Legacy
The Oldham Women's Hockey Club has achieved much in local competitions and community outreach programmes since it was established in late 2017. Despite encountering challenges along the way, it has been an enjoyable and fulfilling journey for many of its members.
Below are the experiences the Chapter Head of Oldham Hockey, Ms Christabel Chan (ACJC Class of 2011), Volunteer Coach, Ms Dawn De Foe and Player, Najat Binte Wahid (ACJC Class of 2016) shared with the Echo.
The Challenges & Legacy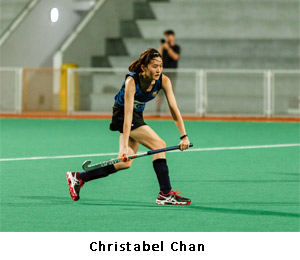 Echo: Christabel, how did Oldham Women's Hockey come about in a predominantly male club?
Christabel: It began when my batch mates and I saw the steady decline in ladies' participation in Singapore's hockey scene. Many players stopped their hockey career in university or upon entering the working world. Furthermore, there was no affiliated club for graduating ACJC students to continue their hockey journey. With these issues in mind, we started the ladies hockey chapter in Oldham Club – giving back via mentoring our younger players.
The Club is blessed that Ms Dawn De Foe, the coach of the ACJC Girls' Hockey team, was willing to coach our Oldham Women's Hockey team pro-bono. She has been the strong connection point between the past and present ACJC hockey players.
Echo: It is commendable that the Club has achieved much in less than 3 years. Besides outreach events, it has also managed to raise monies annually to fund the current ACJC programme. How did the latter transpire?
Christabel: A year into our journey as Oldham Women's Hockey, we discovered the importance of taking over the National Junior League sponsorship of the ACJC girls from the Singapore Cricket Club (SCC), who had been their official league sponsor since 2013. This move meant that our school players are bonded to the club for 1-2 years upon graduation instead of to an external club.
The raising for funds for both the club and the school team sponsorship became critical and it would not have been possible without Oldham Rugby's fundraising support.
Echo: How do you see young working adults making an impact in the lives of young ACSians?
Christabel: As a demographically young club, we are proud that the diversity of careers amongst our young working adults spans across a breadth of industries such as Animation, Education, Engineering, HR and Media. We help young ACSians with advice on career paths, provide clarity on prospects, and equip them with the relevant knowledge to prepare them for the years ahead.
Oldham Women's Hockey also acts as a supporting pillar through sparring with the ACJC girls' team as they prepare for the annual A Division tournament.
Echo: What do you reckon are the challenges ahead?
Christabel: Sustainability and continuity - as founding members of the Oldham Women's Hockey Club, we have laid a strong foundation and paved the way for our juniors. With the kickstarting of the Oldham Men's Hockey Club within the next year or so, we likewise intend to take over the sponsorship from SCC.
Treasured Memories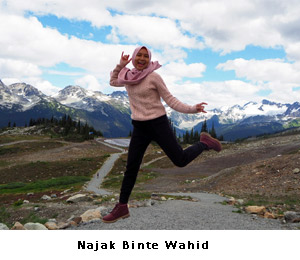 Echo: Najat, what do ACJC & Oldham mean to you?
Najat: ACJC – the place where I was introduced to hockey. Oldham – the place where I pursued my passion for hockey. It is not all about hockey, but the importance of teamwork, discipline and perseverance. It is through my experience in ACJC and Oldham that I was able to develop these values.
Many of my treasured memories were also from my time there, from studying together, hockey camps, Ms Tan's fitness sessions, naps during bus rides to Sengkang Stadium, a swollen lip from a flying hockey ball, giving names to our bruises and prata for supper after training… loved it all!
Echo: How has Oldham impacted you?
Najat: I went for my first ever competition after only 2 months with Oldham and was given the opportunity to play in positions I have never played before. It was inevitable that I made mistakes and yet, I was never made to feel small. In fact, my teammates were very encouraging and as a result, enabled me to grow my confidence as a person and as a player. My experience with Oldham has been nothing but positive.
Furthermore, I look up to the senior players. Despite being busy professionals, they still set aside time for their passion. Now that I will be graduating from university soon, I hope to be able to strike a good work-life balance just like them.
Oldham is also my happy place where friendships extend beyond the field. We have weekly workout sessions online which motivates me to keep fit, manage stress, and break the monotony of life during circuit breaker.
Echo: Why do you want to continue playing with Oldham?
Najat: Oldham is an inclusive club. We are people from all walks of life. Not an ACJC alumna? Donning the hijab like me? A newbie? No problem, you will find a sense of belonging at Oldham.
As a player who started playing hockey only in JC, my exposure to hockey was limited. Hence, the thought of joining a club where most of the players have many more years of experience was rather intimidating. However, after attending an Oldham training, the decision was easy to make. Why? I was welcomed with warm smiles - it was like I was coming back to see old friends although, in fact, I barely knew any of them.
To date, ACJC Hockey has yet to win the A Division Championships although my batch came close to it in 2016. Playing with Oldham is like a second chance to fulfill that dream, especially because Dawn believed in me and sparked my love for hockey. National Women's League champions - let's go!
Up Close & Personal With Dawn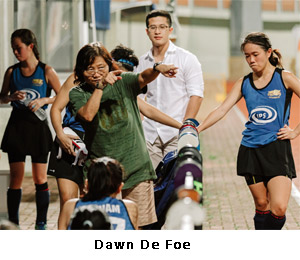 Echo: Dawn, why did you volunteer to coach Oldham?
Dawn: To answer your question, I must go back 24 years ago when I first started coaching the ACJC girls' hockey team in 1996. I was then doing a favour for a friend who was finishing her last year in university. I agreed to help her coach the ACJC girls' team and have been doing so ever since.
When Christabel asked me recently if I wanted to coach an alumni team comprising past ACJC girls, as well as anyone who wants to enjoy and learn the sport, to play in the SHF women's league, I was pleasantly surprised and honoured. I did not refuse as the excitement of watching the young ladies play together as a team again after so many years was unbelievable and such a joy.
Echo: Not being an Old girl, why is ACS special to you?
Dawn: The values the school has and the girls/players that I have crossed paths with through the years have also impacted me both as a person and a coach. Integrity, Character, Tenacity, Good Sportsmanship, Humility, "The Best Is Yet To Be" are values that I believe in also. These important values, when instilled in the lives of the young girls will help them to cope better in life in the world that we live in.
The teachers involved in ACJC Hockey have always been supportive and encouraging. We work well together and always have the best interest of the girls in both academics and hockey.
Echo: What are your hopes for hockey and ACS?
Dawn: To love, enjoy and understand the game of hockey. Making new friends and developing new friendships that will encourage and strengthen each one of them on. Take all aspects of hockey whether fitness, training, playing matches as part of a process that will bring out the best qualities in each player. Winning is always nice and a wonderful feeling, it used to be one of my main goals but the process to achieving the goal no matter what the outcome will be at the end is more important. Winning will be a bonus.
May ACS continue to produce responsible, resilient, determined, and young ladies and men of good stature who will become civic-minded citizens of Singapore who will contribute back to the community. As the ACS motto says. "The Best Is Yet To Be."
Hockey has greatly impacted and given me precious life learning experiences as a player, umpire, and coach. It has contributed to the person I am now. My hope is that all who come into the family of Oldham Hockey become a gem that will grow with confidence, competence and have a heart of gold.