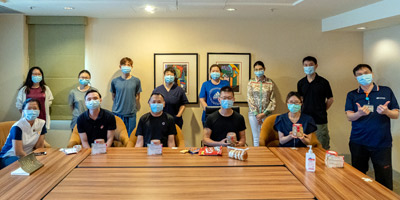 Many people think of you as 'dauntless heroes'; defying convention and danger to serve the community. What phrases in our ACS anthem best describe your experience during COVID-19 and why?
PYK: The second verse of the ACS anthem reminds us that our founding fathers were from different backgrounds (China, India, etc) ... but our hearts, our hopes, our aims are one, no discord e'er will sever. The foreign workers in Singapore have made Singapore their home and they are one of us. They have helped build Singapore and we need to take care of them as well.
DT: When we first started operations, the main challenge faced by the team at Expo was dealing with a situation that we had not trained for, a situation that we had to quickly adapt to. Supporting a Community Care Facility and caring for COVID-19 patients was not a task that we had trained for. We were not trained to manage and treat thousands of patients infected with a very contagious disease. But on March 1 every year, as we sing our school anthem in our hearts, we are reminded to "stand together for the cause" and to save our Island of the Main. This was an unprecedented crisis of a generation, even beyond SARS. We needed to be on the frontline, together with our healthcare partners, to serve the community by helping our patients get better.
GC: I do not see myself as a hero. I was blessed with an education in ACS that prepared me to serve and to do so safely. Nonetheless, these are phrases that resonate most with me during this fight. "A beacon of truth and light" - we may be small in number but our contribution lights the way and keeps others safe. "Our Hearts, Our Hopes, Our Aims are One" - it was a trying time for the country, and we all need to work together, to push together towards a common goal. Our hopes lying on the grace of God, for protection and strength, to face this challenge.
WKC: For me, I would say the 'God save our land and Heaven bless' reminds me of God's faithfulness and protection during these uncertain times. Many times, when we were putting together our team, equipment and plans for the COVID-19 response, I could not help but wonder how things were falling into place so quickly! As a result, I am often reminded to keep thanking God for His guidance and strength, and his interventions!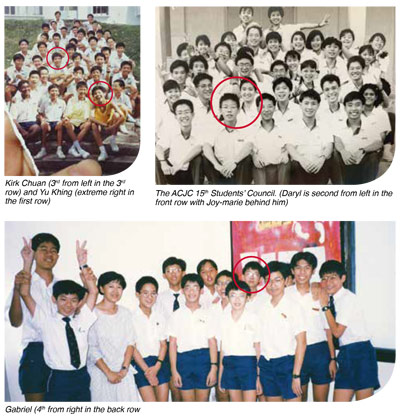 What advice do you have for young ACSians who want to make an impact on society?
PYK: Seek God, dream big, but start small. Start looking for opportunities to make a difference to someone's life today – one life at a time. Through your life experiences, God will slowly reveal what is on His heart for you, where He is calling you to make a difference, and what expertise, and most importantly character traits, that He is moulding within you in order to be of service to people and society.
DT: To all the young ACSians who are about to make an impact on society, remember that you do not and will not walk alone in your journey. As ACSians, our hopes, our hearts, our aims are one. No discord e'er will sever. There is and always will be a community of like-minded ACSians out there ever willing to lend a helping hand or a listening ear.
GC: Be faithful and patient. Work hard to equip yourself with skills so that when God grants the opportunity, you will be ready and prepared to answer His call, to serve in the place that He has chosen for you.
WKC: Recognise that it takes a family of like-minded people to serve effectively. The CCF at Expo was set up in a record time of five days to support the national efforts to manage the situation at the workers' dormitories. Many organisations, agencies and volunteers from private to public sectors stepped up to contribute to this massive effort with manpower, equipment or resources. This would not have been possible without teamwork and a shared passion to serve.
Please share a bible verse or two with us that has provided comfort to you in this unprecedented period of Covid-19?
PYK: Zechariah 7:9-10 "This is what the LORD of Heaven's Armies says: Judge fairly, and show mercy and kindness to one another. Do not oppress widows, orphans, foreigners, and the poor. And do not scheme against each other. Jeremiah 29:7 – But seek the welfare of the city where I have sent you into exile, and pray to the Lord on its behalf, for in its welfare you will find your welfare.
DT: To keep me going, I lean on Joshua 1:9: "Have I not commanded you? Be strong and courageous. Do not be afraid; do not be discouraged, for the Lord your God will be with you wherever you go."
GC: Psalms 46:1: "God is my refuge and strength, an everpresent help in trouble" never fails to encourage me in times of darkness.
WKC: One of my favourite verses which I carry with me, is Proverbs 3:5-6 which says, "Trust in the Lord with all your heart, and do not lean on your own understanding. In all your ways acknowledge him, and he will make straight your paths." Very often when I am faced with issues, I do not fully know the answer to, I turn to this verse and say a prayer, and then carry on.
There are many more stories to tell and many ACSians who will continue to inspire us to aim higher and do more for the community. Should you have individuals who you may want to share the stories of, please let us know at events@acsoba.net.
Ms Joy-marie Toh
MGS '89 and ACJC '91 Long-time friend of the above '89-ers