The Class of 85 seems to have a knack of doing things BIG!
In 2015, they hogged the headlines when nearly 200 of them turned up for the 129th Founder's Day Dinner, the largest ever attendance by a single cohort in ACS history, and to celebrate its 30th Anniversary at the same time. This year, 24 golfers from the cohort celebrated all their 50th birthdays on the golf courses of Spring City Golf & Lake Resort, Kunming Country Club and Sunshine Golf Club in Kunming, China. Here again, this is probably the largest ACS golfing group to celebrate their birthdays offshore.
The group has been going on golfing trips in the region at least twice a year. Starting with only five members (Roy Yeo, Kuay Soong Teck, George Pan, Chew Kwee San and Luke Choo) for its inaugural trip to Bangkok in August 2015, the group size has now grown to 27 golfers who keep in close touch through a channel, aptly named "Golf Escape", in the Telegram app.
According to Kuay Soong Teck, "Besides golf, the ties that bind us are the memories and true friendships developed during our time in ACS. As we approach our final 6 holes, we now want to spend quality time with each other and stepping up to aid one another as needed proactively".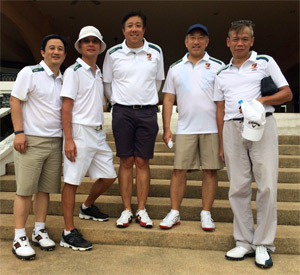 The first group in Bangkok in 2015
(From left: Roy Yeo, Kuay Soong Teck, George Pan,

Chew Kwee San and Luke Choo)