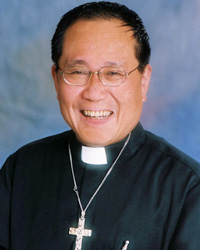 Rev Malcolm Tan is presently the Pastor-in-charge of Covenant Community Methodist Church, Chaplain-in-Charge of Methodist Girls School and Training Consultant for the Methodist Missions Society. Committed to Christian Unity, Missions and Religious Peace, he has been an Interfaith Activist for many years, promoting mutual respect through dialogue.
An old boy of ACS, Rev Tan graduated from Trinity Theological College in 1984 and has served successively at Kampong Kapor, Bedok Faith and Barker Road Methodist Church. He was also previously the Chaplain at ACJC, Chaplain-in-Charge of ACS (Primary), ACS (Barker Road) and ACS (International), and Group Chaplain of the ACS-based 12th Company, Boys' Brigade for 12 years.
Rev Tan was recently nominated by the World Methodist Historical Society to serve as one of the Vice Presidents (Asia). He earned his M.A. in Asia Pacific Studies from the Dept. of East Asian Studies, University of Leeds, and is completing his Ph.D. with NUS.
Mr Choe Peng Sum, 58, brings with him over 37 years of experience in the hospitality industry. As Chief Executive Officer of Frasers Hospitality Group Pte Ltd, he stewarded the company from its inception in 1998 with two properties in Singapore to currently owning and managing 150 properties across more than 80 cities globally.
Mr Choe started his hospitality industry career in 1981 with Westin, and subsequently Shangri-La International where he was awarded the Shangri-La overseas scholarship. He graduated from Cornell University (Ithaca, New York) with a Bachelor of Science with Distinction and was awarded the National Dean's List (USA) as well as the Phi Kappa Phi for academic excellence.
A true-blue ACSian and married with 2 daughters, Mr Choe is currently a board member of the Council of Private Education, Governing Council member of the Singapore Quality Awards, Spring Singapore and Chairman of the Board of Directors for Crest Secondary School. He is also the Lay-person Member of the Complaints Panel for the Singapore Pharmacy Council and Lay leader of the Barker Road Methodist Church.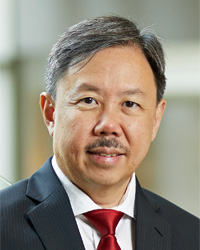 Mr Hugh Lim is the Chief Executive Officer of the Building & Construction Authority (BCA). Prior to joining BCA, he was the Deputy Secretary (Community, Youth and Sports) at the Ministry of Culture, Community and Youth, and before that, the Deputy Secretary, Ministry of Law.
A graduate from the University of Liverpool with a Bachelor of Engineering (First Class) degree on a Singapore Armed Forces (Overseas) Scholarship, Mr Lim also holds a Master of Science (Management of Technology) from the Massachusetts Institute of Technology, USA. He had served in the Singapore Armed Forces from 1984 to 2006, during which time he served in a variety of command and staff positions, including Chief Engineer Officer, Commander 6 Division, Commander Training and Doctrine Command (TRADOC) and Chief of Staff, General Staff, before attaining the rank of Brigadier-General in 2005.
Married with 3 children, Mr Lim is a true-blue ACSian and a member of Wesley Methodist Church