On 22 September 2016, 81 boys and girls (now men and women in their late sixties) from the ACS 'O' Level Class of 64 and Pre-U Class of 66 gathered at the Raffles Town Club for their cohort reunion. Among those present were schoolmates from seven cities who flew in specially for the occasion.
For many, it has been more than 50 years since they were last in contact with each other. Hence there were lots of catching up, renewal of friendships, animated exchanges of long forgotten gossips, and even admissions of pranks played and confessions of secrets … all in good fun and in the inimitable ACS Spirit.
This is the first time that the two cohorts got together for the reunion and kudos to the organisers, Kenneth Choo (London), Vivien Loong, Gladys Lim Siok Hian and Henry Wee from Arts B, for making it possible. And with Wong Hong Sze (Arts B) as MC and entertainment provided by crooners Wong Ong Cheng (4C) and Lim Kok Eng (Science B), the evening turned out to be most enjoyable and memorable. But the party did not end there for some who flew off two days later to continue with the celebrations in Penang, Malaysia. What a year it has been for our cohort!
We have plans for another reunion in 2018 when members of our cohort cross over their 70th birthday, after which it is likely to extend the celebrations offshore to Ubud, Bali. More details will be announced when available but meanwhile, please stay in touch through our regular mini-meets.
Tan Yew How (Science B/4D)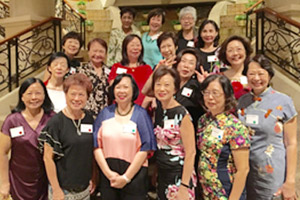 The ladies from the Pre-U Class of 1966

The guys from the Pre-U Arts Class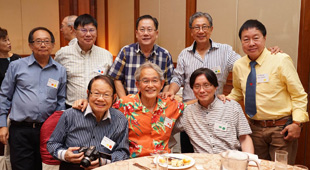 We must meet more often!