As envisaged, the efforts of John Chen and Tony Chan and the cast of their behind-the-scene supporters and philanthropists had not been in vain. Attendance on 6 December 2016 left no one in any doubt as to the keenness in coming together for the numerically auspicious re-union. That fifty-three turned up, with three accompanied by their spouses, was a testimony to the prevailing ACS Spirit that remained intact over the past six decades. The camaraderie was further strengthened by those who endeavoured to return from "distant shores" -- Mui Fong from Australia, Leonard and Ngi Wah from Canada, Balachandra from the United States and Ken Doh from Great Britain -- to immerse in the prevailing spirit! Even the few who had good reason to stay away from such functions for a while, returned to relish in the fellowship, Johnny Moo being one conspicuous absentee!!
Platitudes, greetings and hugs were executed with slaps on the backs on arrival and, soon, they were at the tables with their special interest groups. This was the de facto Pioneer Generation group! They were in school from 1946 to 1956 and witnessed Singapore's development and, since then, as an ACS group, contributed to its success in some way.
Conversations at the gathering were not about in-laws or wealth ownership. The sociolect in use was peculiar to such a group. They would startle any medical practitioner with their credible knowledge of gerontology, geriatrics and even iatrogenic issues. The main concern for them was to make the best of the senectitude before them.
They navigated through the evening without nuclear energy, and unperturbed. Even the professional cameraman moved about without notice and captured the most candid The Undaunted 1956 Cohort poses. The food that was before them, in terms of quality and quantity, was not given its due attention.
The evening moved on smoothly, ignoring the prepared programme. The MC was subtly made redundant. Nevertheless, important items did manage to get observed. The one-minute silence for school mates who had passed on, the rendition of the ACS Anthem in full-throated gusto, and the one and only harmonica performance by Ngi Wah were dutifully carried out.
They would have been oblivious of time if not for the habitual biological clock that signalled "time for bed". Reluctantly, Auld Lang Syne was given its turn and the cohort dispersed with the emotional "See you in 2017"!
Foo Chee Jan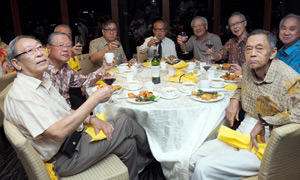 Cheers to the 60th Anniversary!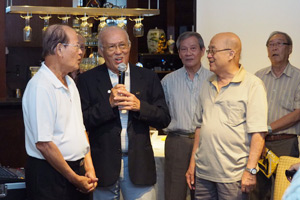 Leading the singing of the ACS Anthem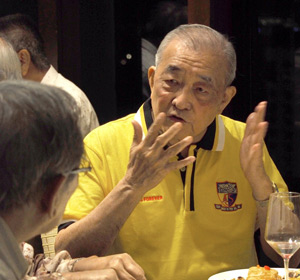 Wah Thong narrating the greatness of ACS!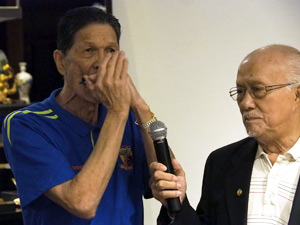 Ngi Wah's harmonica performance