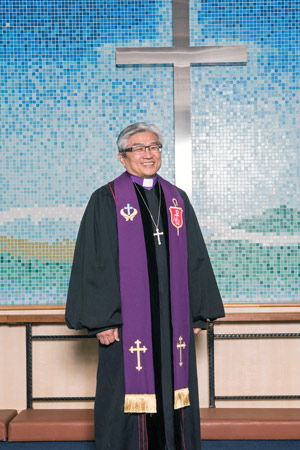 Rev Dr Chong Chin Chung appointed as the New Bishop of
the Methodist Church in Singapore
The Rev Dr Chong Chin Chung, 61, was consecrated as the new Bishop of The Methodist Church in Singapore at Queenstown Chinese Methodist Church and Faith Methodist Church on 02 December 2016. He succeeded Bishop Dr Wee Boon Hup who has retired after serving as Bishop for a term of four years.
An estimated 1,000 attendees were at the Consecration Service to witness the dedication of Bishop Dr Chong by several Methodist guest Bishops from Malaysia, Indonesia, Sri Lanka, Australia and Taiwan. Also present were the new Bishop's wife and two of his three children.
Bishop Dr Chong was a graduate of Nanyang University in 1979, where he studied literature. He graduated from Trinity Theological Collage (TTC) with a Master of Divinity in 1981 and obtained a post-graduate Master of Theology degree from Duke Divinity School in 1995. In 2008, he received his Doctor of Theology degree from the South East Asia Graduate School of Theology. He has been a guest lecturer at TTC since 1996.
Bishop Dr Chong has been a Methodist for the past 32 years. He was pastor of Kum Yan Methodist Church and Pastor-in-Charge of Paya Lebar Chinese Methodist Church. In 2008, he was elected as President of the Chinese Annual Conference (CAC) and re-elected to the same post in 2012. During his tenure as CAC President, he saw the formation of the Conference's Board of Family Life, in response to climbing divorce rates, and the complex challenges of work-life balance and parenting in a demanding environment.