LI DENGHUI came to my attention in an obscure item as a prized pupil for Standard I in 1887, albeit under the name "Lee Teng Hwee".
Subsequent research into the recently acquired ACS Journal for 1889 confirmed that he won prizes for Dictation and Grammar in1889 when he was in Standard IV. No bookworm, he joined the Cricket Club and was elected Secretary and Treasurer, and contributed to the Journal with a short reflection on the proverb, "Where there's a will there is a way." What manner of student was this, and what was the story?
Born in 1872 to the family of a poor farmer with a small trading business in a small West Java town near Batavia (Djakarta), he was the eldest in a family with five brothers and two sisters. He studied at an elementary school, going by horsecart, but staying at home on rainy days to help his mother look after his siblings. His mother's death in 1885 when he was just 13 affected the business but Denghui showed little interest in the business or domestic chores. After his father remarried, he agreed to let the restless lad go to Singapore to further his studies in 1886 when he was 14 years old.
He arrived fairly soon after ACS was founded, and was entrusted to his father's business associate, one Mr Tan, who looked after him and arranged for him to be enrolled in the school. With an emphasis on English, science and mathematics, together with regular Bible study, a number of students became Christians, and Denghui's Christian faith and his belief in the value of loyalty, purity, generosity and love came from his three years at ACS.
In his second and third year, he had all his meals with the Rev William Oldham, while he would wander off after church on Sundays to ponder over the window of knowledge which he widened when he went overseas to study Greek, Latin, French, the arts and literature of the Renaissance, and English Literature – a background from which he was later to teach at Fudan University.
At ACS, he was a good scholar, and must have impressed Oldham who accompanied him to Batavia some time in 1889 (before going on medical leave in America). With Oldham's encouragement and financial assistance from the Methodist Mission, he sailed for America in 1891 where he spent some time at Ohio Wesleyan University preparatory to admission to Yale from where he graduated with a BA degree in 1899.
His Christian background now encouraged him to answer Bishop Thoburn's call for volunteer missionaries to teach in India and Malaysia, as did James Hoover – who later became a key Methodist missionary in Sarawak. Both men actually sailed together to Penang where they joined the staff of ACS Penang, and were members of the school committee along with Dr. B. F. West, G. F. Pykett and J. W. W. Hogan in 1900.
The idealist in action
An article by Zhuang Qin Yong in the Journal of Humanities & Social Sciences, Vol III, 1982/83 shows Li Denghui as an intensely patriotic Nanyang Chinese, bitterly disappointed at the failure of the efforts by early Chinese patriots like Kang Youwei and Liang Qichao to modernise China. He thus resolved to devote his life to serve its people. He founded a debating society in 1899, similar to that established earlier in Singapore by Dr Lim Boon Keng whom he met in Penang. He linked the causes of the problems besetting China to a blindly conservative mentality, an incompetent, corrupt and unjust ruling class, the exclusion of women from education, and the observance of ancestral worship. This led him towards the need for reform in China.
Deciding that his future lay in social action, Li Denghui left Penang, and spent three years in Batavia unsuccessfully pursuing his ideal of providing a new kind of education. In 1904, he revisited Penang, meeting a number of other Nanyang Chinese with similar ideals – Dr Wu Lian Teh, Dr Gu Li Ting and Hong Mu Huo – firming up some ideas which were later applied in China, where he spent the rest of his life.
He arrived in Shanghai in October 1904, organised the World Chinese Student Federation in July 1905 and was its first President, aiming to promote social justice in China, unite Chinese students studying overseas, and help members secure employment, medical care and legal advice. Similar associations were set up in Penang, Qingdao, Fuzhou, Hawaii and Singapore. Most of the original members of the federation were Christians and patriots.
At almost the same time, he was appointed supervisor of Fudan Public School by its founder, Ma Xiangbo, a Christian, whose intention was to select high school students by examination and train them in higher level subjects in the English language thereby enabling them to gain admission to European universities for specialised subjects.
In 1913, when Ma Xiangbo had to leave China, Li assumed the position of Principal, teaching several subjects such as English, Logic and Philosophy. In 1917, when Fudan Public School became a university with a modern curriculum in the humanities, natural sciences and business as well as modern European languages, he became its first President. Unique in being a private institution, it was staffed mainly with teachers who had been trained in the West.
As President of Fudan University, he lent active support to the May 4 Movement that had started in Beijing and spread to Shanghai in May 1919, providing refuge for students who had been dismissed from Beijing University for their involvement.
Despite the efforts of Li to defend the actions of the students as patriotic, the authorities took a hard line, arresting and punishing them. This resulted in a general strike by students in Shanghai, supported by public works personnel. In the ensuing confrontation, the Republic of China Student Union convened a meeting to elect representatives, attended by Li. When things had quietened down, Li chaired a public talk attended by more than 100 Chinese students who had studied in Europe and America, and encouraged them to work hard and diligently in order to reform the new China.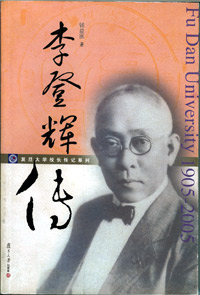 Celebrating the Fudan Centenary – 1905 – 2005
An unexpected source of Li's role in the social and educational development of China in the period before the war has come from a recent publication of his biography by Fudan University celebrating its centenary this year.
In reviewing his more than 30 years of educational leadership in a society that was in a sorry state, he noted (in a radio broadcast in May 1940) that the education provided by Fudan had progressed significantly from a mere high school to a full-fledged university, and from a basic academic curriculum to specialised scientific studies and, with the development of physical culture, students had become more robust.
Unfortunately, this was insufficient; real social progress is the result of moral integrity by which teachers have to lead by example. He himself realised this when he recognised that his right to demand strict moral standards of students could only be justified and authenticated by his personal commitment to these same standards.
Such was the influence of his personal and Christian values he absorbed when he was a student of the Rev Oldham and later influenced by the Moral Re-Armament Movement that promoted the "four absolutes" – absolute honesty, absolute unselfishness, absolute love and absolute purity.