No history of the Anglo-Chinese School is complete without reference to Tan Sri Tan Chin Tuan, because this alumnus has not only done the school proud with his long and successful business career but also because he gives continuous and unstinting support to his beloved alma mater.
As the man who developed the Oversea-Chinese Banking Corporation Ltd into a big and strong institution, Tan Sri's generosity extends beyond the ACS family to encompass other educational projects and institutions. He also supports the aged, the weak and other deserving charitable causes.
But ACS remains Tan Sri's perennial favourite. He provided generous financial support to the construction of the Barker Road campus in 1950 as well as many other ACS building projects. In all, Tan Sri has donated over $5 million to various ACS building projects including the construction of the Tan Chin Tuan Auditorium at ACS (Independent) in 1993. The most recent donation was the re-development of ACS (Barker Road), for which Tan Sri donated $2.25 million. As a token of appreciation, ACS named two co-curricular activity centres in the redeveloped campus after him and his father, Tan Cheng Siong. They are the "The Tan Chin Tuan Sports Complex" and the "Tan Cheng Siong Drama Centre".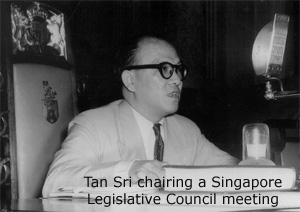 Besides generous donations for buildings, Tan Sri set up 10 scholarships for ACJC and 4 for ACS (I) named after various ACS principals and teachers. Each scholarship has a value of $1,500 per annum. Among the scholarships were those named after the Founder of ACS - Bishop W.F. Oldham; Principals - Rev. J.S. Nagle (Principal, 1913-1922), Rev. P.L. Peach (Principal, 1922-1924), Thio Chan Bee (Principal, 1952-60), Lee Hah Ing (Principal, 1961-69) and Teachers – H.M. Hoisington, Rev C.B. Paul and Rev Goh Hood Keng. Apart from that, Tan Sri began presenting gold medals in 1959 to the top Higher School Certificate ("A" levels) student/s in his alma mater. From 1995 onwards incorporated with the medal was a cash award worth $500, which has over the years been increased to presently, $2,000.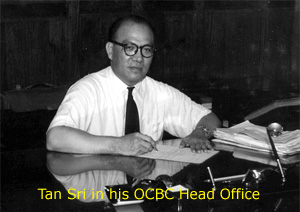 Tan Sri has enjoyed success and accolades in his long, varied and illustrious career. From the mid-1950s to 1992, he was chairman of nine major Singapore companies – Oversea Chinese Banking Corporation Ltd (OCBC), Asia Pacific Breweries Ltd. (APB), Fraser and Neave Ltd. (F&N), Great Eastern Life Assurance Co. Ltd. (GEL), Oversea Assurance Corporation Ltd. (OAC), Straits Trading Co. Ltd. (STC), Raffles Hotel Ltd., Robinsons & Co. Ltd., and Wearne Brothers Ltd (WBL).
Under his leadership, these companies grew rapidly and provided significant benefits to their shareholders. As records show (see box below), a shareholder who held 1,000 shares in any one "OCBC group" of companies from the base year to the year of Tan Sri's retirement as chairman, would have enjoyed considerable growth in his or her investment (assuming full subscription rights).
Number & Value of Shares

Total
Dividends
less Rights Subscriptions

Final
Value of Investment

At Base Year

The Year Tan Sri
Retired as Chairman

Year

Number

Value

Year

Number

Value

OCBC

1947

1,000

$1,306

1983

43,389

$490,295

($13,741)

$476,554

APB

1951

1,000

$5,200

1983

16,875

$115,594

$62,320

$177,914

F&N

1950

1,000

$3,100

1983

15,556

$130,667

$61,881

$192,548

GEL

1962

1,000

$2,850

1992

38,016

$444,787

$54,859

$499,646

Robinsons

1950

1,000

$2,013

1976

30,000

$61,500

$33,383

$94,883

STC

1954

1,000

$24,650

1992

330,000

$966,900

$1,190,997

$2,157,897

WBL

1967

1,000

$1,380

1983

2,250

$10,665

$1,867

$12,532
Upon Tan Sri's retirement from these companies, he was made their honorary life president. Despite this distinguished record, he usually shies away from the limelight. Described as "benevolent" and "scrupulously honest", Tan Sri's greatest satisfaction is said to be simply having "lived life as an honourable man''.
In 2003, Tan Sri's life story was told in the book entitled "Quiet Achiever - The Life & Times of Tan Sri Dr Tan Chin Tuan" by Mike Macbeth and published by Times Editions. Capturing the many facets of Tan Sri's life, the book assesses why he is such an outstanding man, and "solid as a rock".