The ACJC Alumni Choir embarked on its fourth overseas tour this summer— this time venturing to Berlin and South Tyrol from 15 to 24 June. The aim of the tour was to build friendships and meet and learn from choirs in a different part of the world who share our love for singing. This was certainly achieved through our choral exchange with Berlin youth choir Vokalsystem, conducted by Johannes Wolff. The two choirs held joint rehearsals, with us even teaching Vokalsystem a Chinese folk song! The collaboration culminated in a joint concert entitled Sing Across the Borders at which both choirs sang to a full house. While in Berlin, the choir also had the privilege of performing at the Singapore Embassy at an event kicking off a celebration of Singaporean art and culture in the city.
Following the Berlin leg of our tour, the choir made its way to South Tyrol, North Italy for the 22nd Alta Pusteria Choral Festival, where it was one of 78 participating choirs from around the world. During the festival, it was our great joy to share the message of God's love with our audiences through song. We also had the extraordinary pleasure of bringing a taste of local and regional music—including several of our own commissions—to the other choirs and festival attendees who might otherwise not have heard Asian folk music.
Through the experiences the festival afforded, we were challenged to consistently uphold excellence in music making and give the best of ourselves in every context. The tour has brought us yet another step closer to understanding the importance of integrity to our craft, and of performing to bring blessing to those who hear us, all for God's glory. Fulfilled and reinvigorated by a most memorable and rewarding tour, the choir looks forward to its upcoming Christmas season during which we will carol and present our annual Advent concert on 8 December at the School of the Arts Concert Hall.
Nicole Lim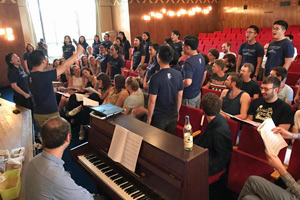 In rehearsal with Das Vokalsystem,
teaching them a Chinese folksong.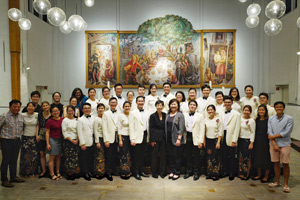 A post-concert photo with the Singaporeans who
attended the concert in Berlin, including Mrs Bay,
wife of the Singapore Ambassador to Germany.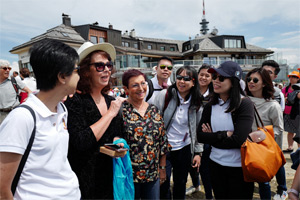 Linking up with new friends from Israel.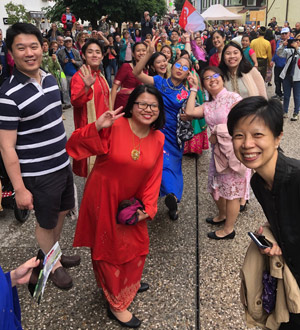 A quick shot as we march through the streets of Toblach together with 77 other choirs from different countries, singing and greeting everyone who has gathered along the streets, heading to the town square for the Mayor's welcome.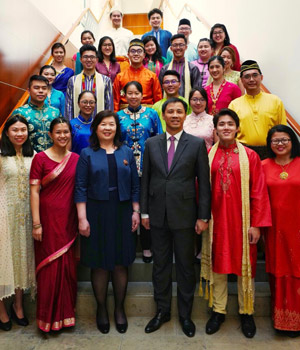 Hosted by Ambassador and Mrs Laurence Bay at the Singapore Embassy in Berlin on June 17, the choir performed at a function for diplomats and local cultural leaders.
The ACJC Alumni Choir's segment in the Joint
Concert Sing Across the Borders on 18 June.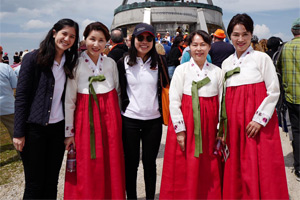 Meeting up with members from the




South Korea's Ewha Women's choir

.